Raised Garden beds are considered one of the most effective gardening techniques due to the numerous advantages they present. The main reason they are so popular is due to space-saving benefit.
Multiple types of plants can be grown beside one another without worrying about any adverse effects they can have on their neighbors. Although some extra manual labor is required to build a raised garden bed by yourself, it is well worth the effort in the end.
Before you break out the tools and start building, here are some tips and ideas you should keep in mind when constructing a raised garden bed. First of all, you need to think of the place, quantity, size and the materials for your raised garden bed.
An area with the most sun is best and small beds are good for a diverse garden. Most people use wood for the bed due to its natural feel and also because it's cheap as well as durable. Here is a list of 42 DIY-raised garden beds, along with the layout pictures.
Simple Cedar Garden Boxes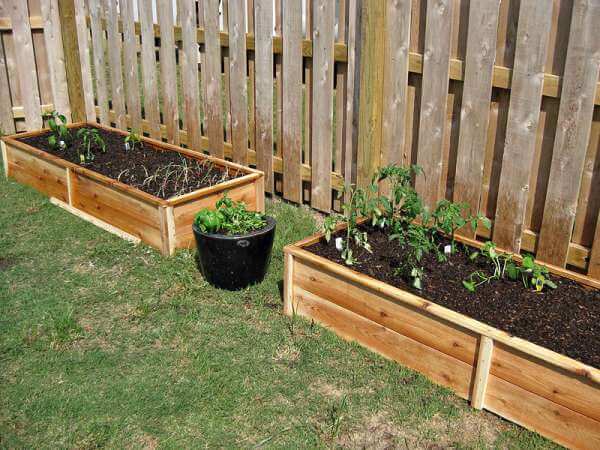 These are simple traditional garden beds that go great when constructed near the fences. Due to the 2 boards that make up the height of the bed, it really eases all the back problems associated with gardening. Although you may need to fill up the bed with more dirt then usually used in traditional garden beds.
Tiered Garden Bed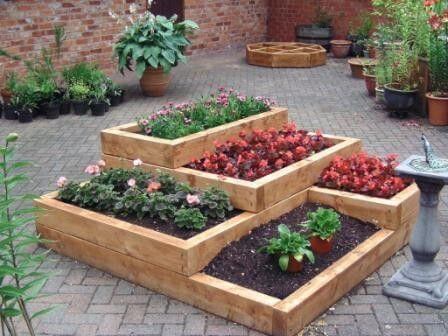 Definitely, a unique style of garden bed, the tow tier garden bed has a stair-like structure. Due to its structure, you can grow different plants in the same space. You can also use the tiered garden bed for ornamental purposes by growing flowers on the top tier and small shrubs on the bottom. You can also plant a combination of tall plants and trailing vines to enhance aesthetics. They are easy to assemble thus you can begin growing the garden you've always dreamed of!
Lifted Garden Bed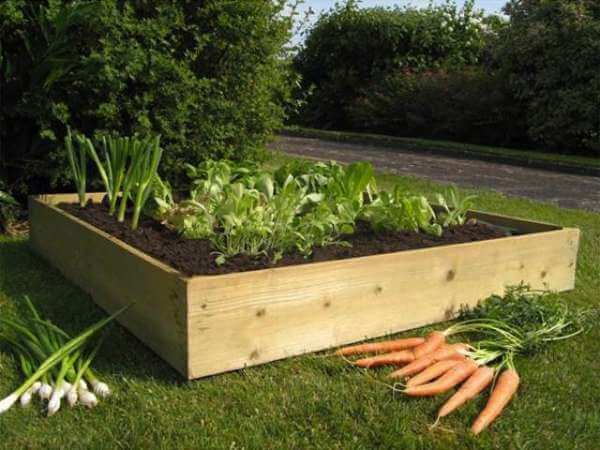 As the name says, it is elevated from the ground so as to keep most insects away from any flowers or produce you might be growing. This will give you the perfect garden setup in less than one hour.
Raised Bed with Benches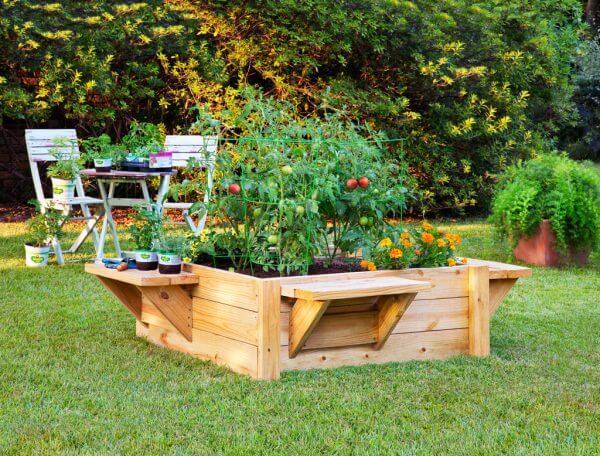 It is a type of raised bed that has benches that can be used for garden purposes, such as holding pots or watering cans. They can provide you with a seat in case you get tired or get back pains.
It's no slouch in the height department either, as it is 3 planks tall. One great book on raised beds that I would love to recommend is "Raised Bed Revolution" by Tara Nolan which you can get on Amazon.
Fenced Garden Bed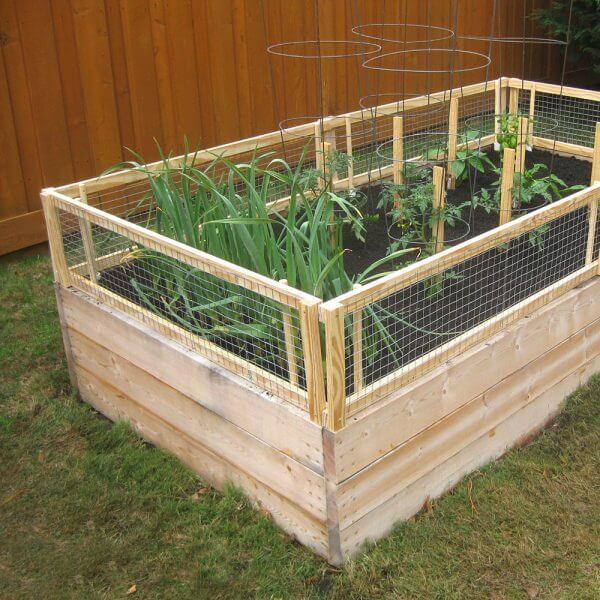 If you want to keep your plants safe from some relatively large animals, then the fenced garden bed is the way to go. Standing at 3 planks tall with fences for extra protection, this bed is both functional and safe. This easy-to-use and flexible decorative garden fence is ideal as garden decor.
No-Frills Garden Bed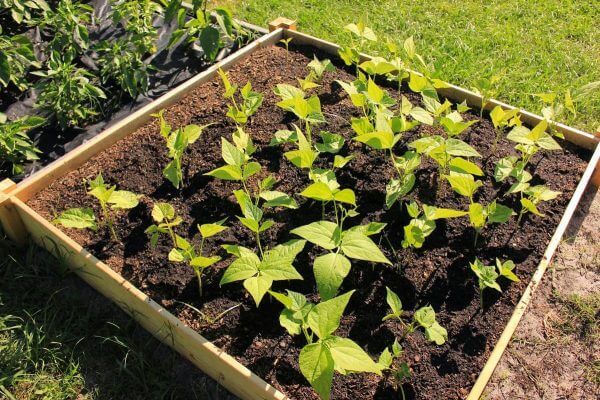 This bed is perfect for beginners as it is quite easy to make and has a simple guideline. It's basically a square that can be used in any way you prefer. If you are unable to make your own, you can purchase a ready-made raised bed garden metal kit which is much convenient.
Landscaping Timbers Raised Garden Beds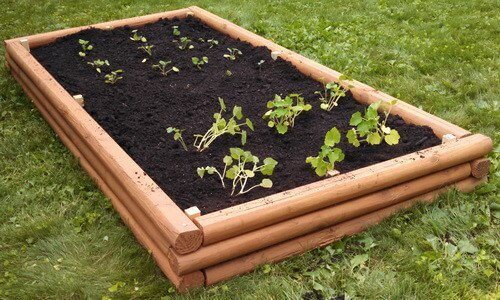 This particular bed is both functional and beautiful. Using timbers as the walls for the garden bed, it really lends your garden a more 'outdoorsy' touch. In addition, it is quite large, so it can hold more of the same plant or maybe even two different types of plants.
A great book on using timbers that I highly recommend is Learn to Timber Frame by Jack A. Sobon.
DIY Raised Garden Beds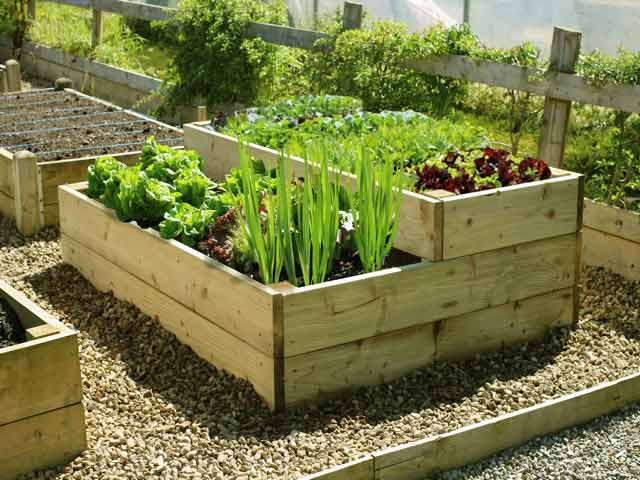 It is easy to construct garden beds for your backyard that you can use to either grow produce or just add some scenic beauty to your home. Read about some inspiring vegetable gardening books for backyard gardeners here.
Puppy Proof Garden Beds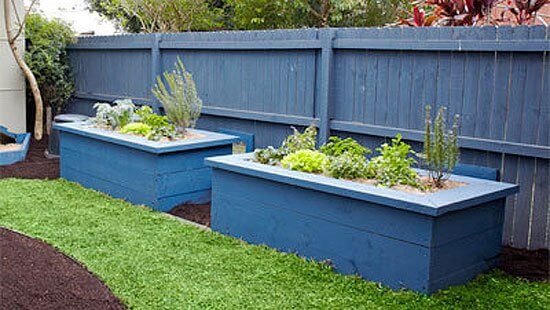 Sometimes your cute pets end up being your plants' worst enemy. This garden bed is built quite high from the ground, so it is most definitely out of reach of puppies. You can also be creative and use L-shaped puppy proof garden beds that fit into a corner, creating unique landscaping areas.
Raised Bed Planter Stand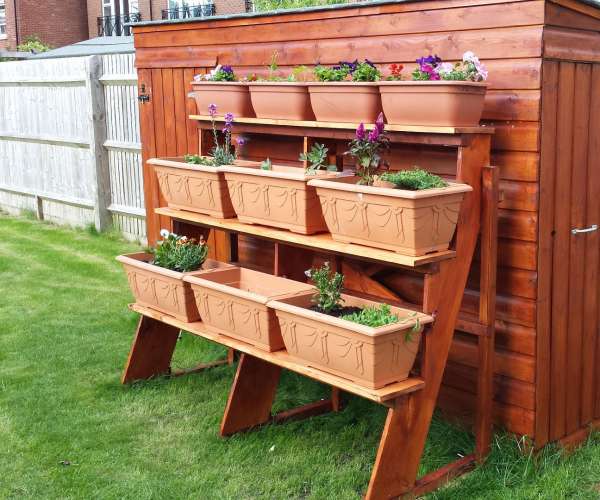 If you are the kind of person who prefers pots to the ground, then this plan is perfect for you! It's mostly for ornamental purposes by putting potted flowers on the stand to add beauty to the surroundings. Due to its small size, it can also be a great addition indoors as well. Easily grow your favorite plants, herbs, and flowers anywhere through this lovely outdoor garden planter.
DIY Garden Enclosure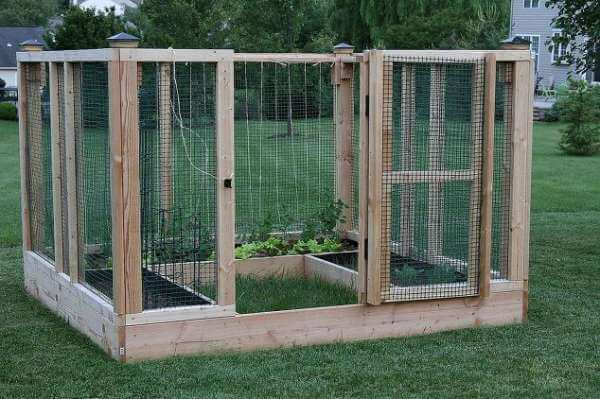 Think greenhouse, only with wood and fences. It has three beds installed in with a standing spot in the middle for you to have easy access to all your plants. Due to its large fences, it offers protection from large animals looking for food in your garden.
The Inexpensive Raised Garden Bed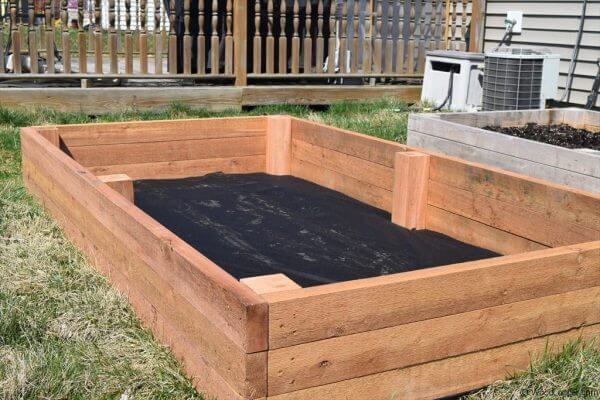 This good raised garden bed plan provides you with the most efficient space, which will allow a lot of plants to grow. It is both simple and beautiful.
Garden Pyramid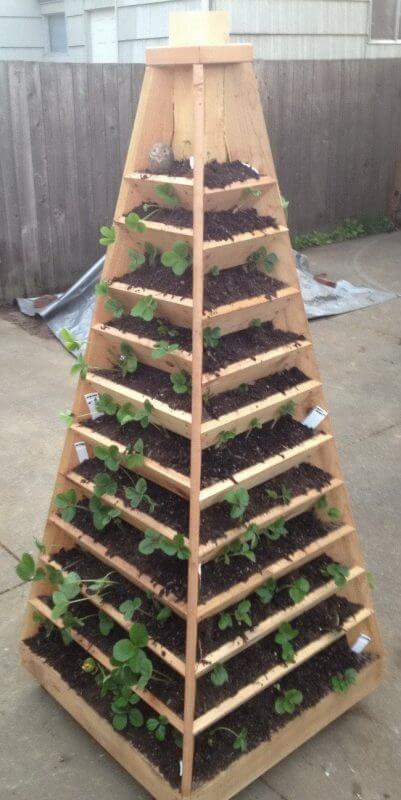 One of the most unique takes on raised garden beds ever It is in the shape of a pyramid, with each level providing enough space to grow some plants. A very attractive addition to the backyard that is sure to gain attention.
Raised Bed with Legs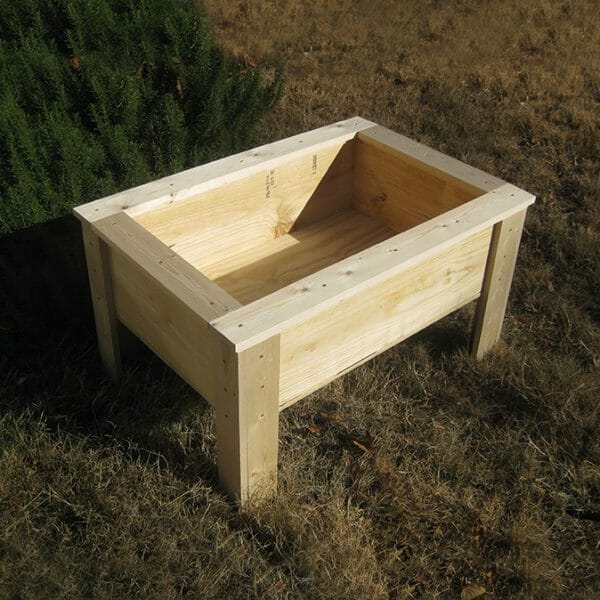 As the name says, it is a bed with legs that raise it some distance from the ground thus offering protection from underground insects. It also provides mobility as other beds are basically permanent attachments. Check out this easy-to-assemble and durable raised bed with legs. It comes in different sizes and height!
Curved Raised Bed

A great way to utilize space, this bed is a combination of multiple beds that form a 'U', thus allowing you to access all your plants while standing in only one spot. More ideas and helpful tips can be found in The Ultimate Guide to Raised Bed Gardening for Beginners 2nd Edition by Lindsay Pylarinos.
DIY Tiered Herb Garden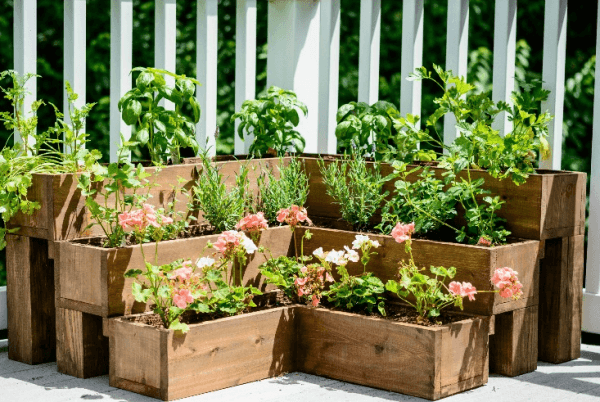 This raised garden bed plan is reminiscent of a bookshelf only instead of books; there are plants in each section. Due to the small amount of space, it is best utilized when growing small herbs.
Herb Garden Design is a very useful book for beginners and gardeners.
The Ultimate Garden Bed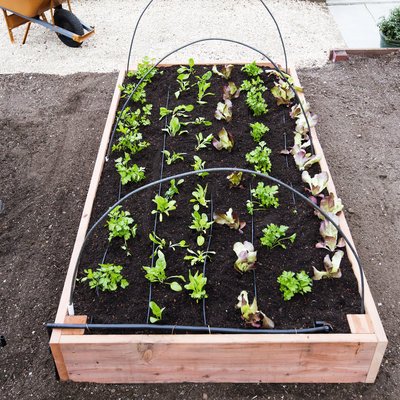 This is a very good raised garden bed plan that covers the basics thoroughly and gives you an organized plan to follow. It is ideal for planting tomatoes, cucumbers, pumpkins, and melons.
Hoop Garden Bed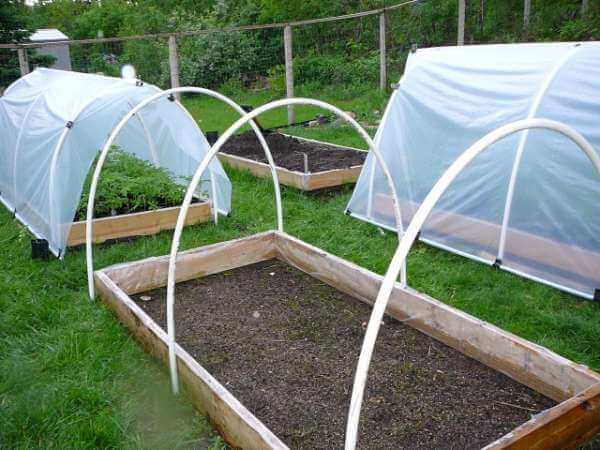 It is a garden bed covered by a hooped canvas that protects your plants from the hazardous elements of nature. Simple yet very effective!
The Square Foot Garden Bed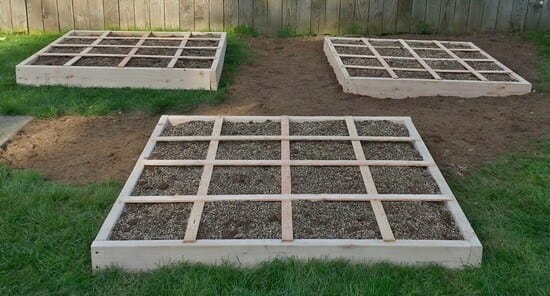 A bed that is divided into multiple sections that can be used to grow in a limited space. It uses a grid arrangement to separate plants in a square garden bed.
Tire Garden Beds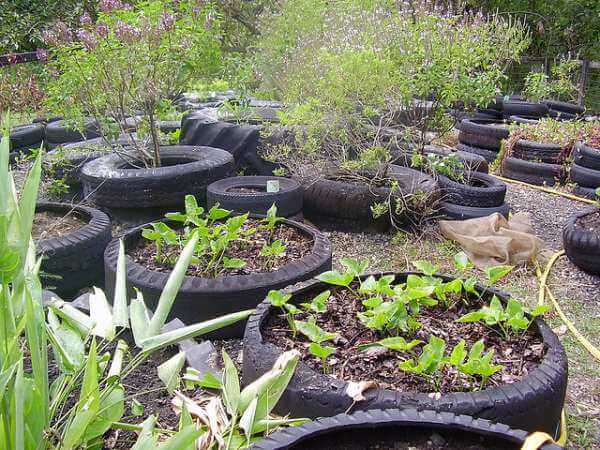 Clear your garage space and get a raised garden bed at the same time. By recycling old car tires, you can save some space and be more environmentally friendly. There's also the added benefit of not having to build the bed itself.
Herb Planter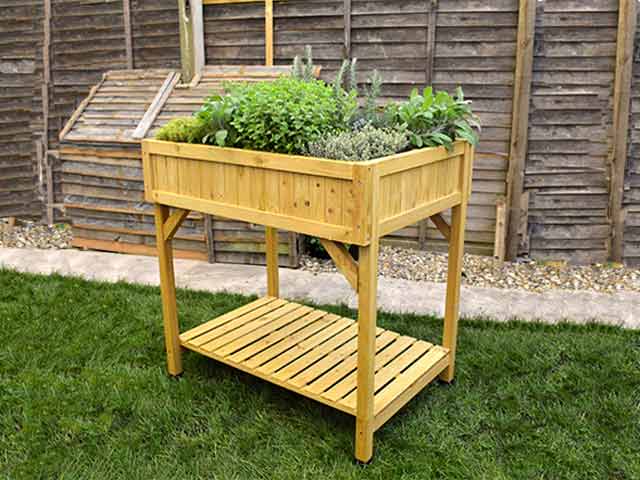 It is a garden equivalent of a bedside table. It stands at approximately the same height but the amount of dirt it can hold is quite low due to the size of the planting space thus it is usually used for growing herbs. A relatively cheap and modern option would be this elevated garden planter.
Planter Box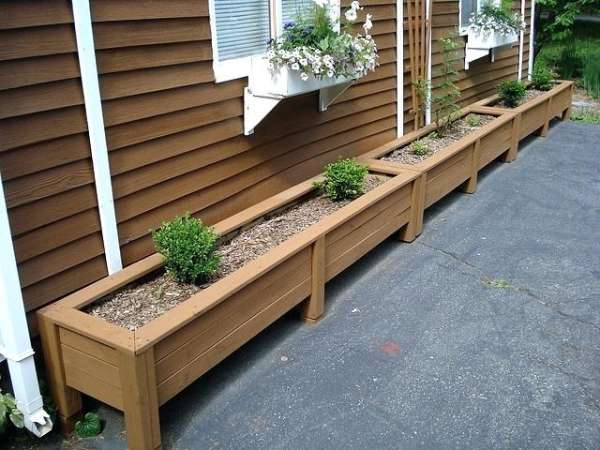 Basically, a very long garden bed that goes great pushed against a fence. It is usually used for giving your garden a beautiful background. CYS Excel planter box is a great option and is very affordable.
Garden Enclosure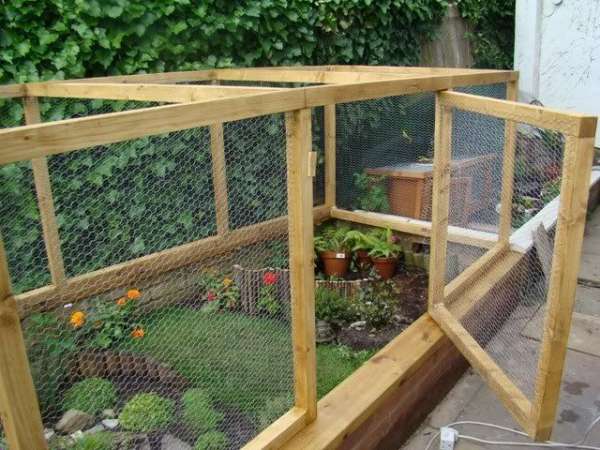 It is basically the same as other garden enclosures with the only difference being its slightly smaller size. Eden's raised garden table with optional enclosure is available for medium and large sizes, making it very compact when you need it.
Pallet Planter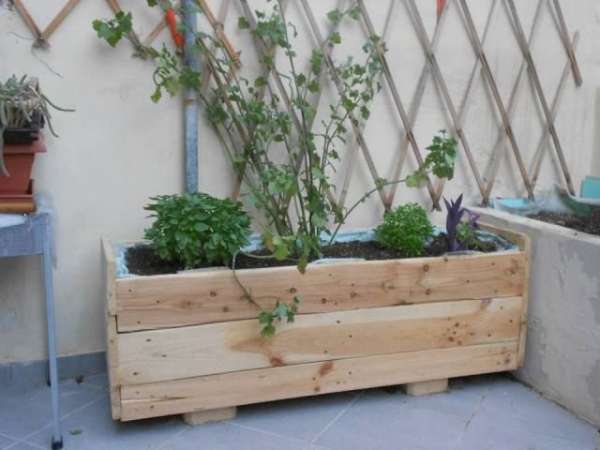 A raised bed made completely out of pallets is priced affordably so it gets the job done. The bed is quite high so it's best to grow plants with long roots in it. A good choice would be JzNova's 2 Packs of Plant Pallet.
4×4 Raised Bed

This medium-sized garden bed holds more plants than your average garden bed. You can use it for growing vegetables and similar things. A great book on raised beds that I highly recommend is "Raised Bed Gardening: Growing Vegetables for Beginners" by Kendra K.
Dresser Herb Garden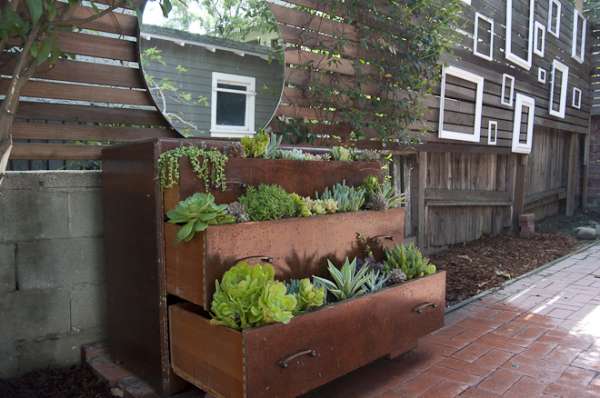 Wait! Don't throw out that old dresser. Instead, use it to make a garden bed. Just fill the drawers with dirt and some seeds.
Click To Tweet
Wait! Don't throw out that old dresser. Instead, use it to make a garden bed. Just fill the drawers with dirt and some seeds. In a short while, you will have one of the most unique ornamental accessories in your garden. If you don't have any old dressers, a cube storage dresser made by Clarity Home Solutions is enough to house your herbs.
Raised Garden Bed Benches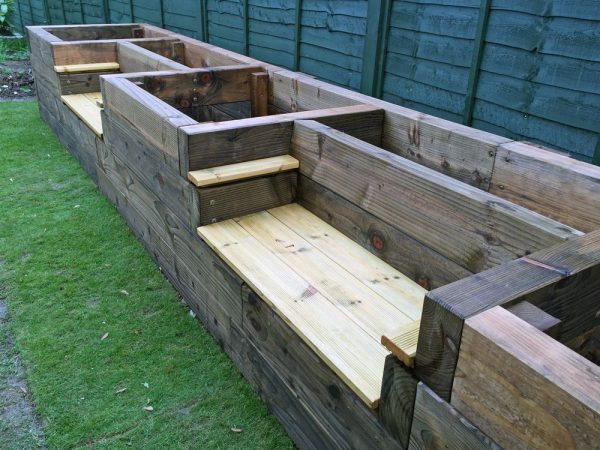 It's like having your very own park bench. Surrounded by beautiful plants on all side, it sure makes a nice place to sit on cool, windy days. There is a small space for more plants between consecutive benches and behind the bench for whatever plant you desire to grow. For a thorough guide to these types of designs, you may want to check "The Essential Gardening Workbook".
Cement Block Raised Garden Beds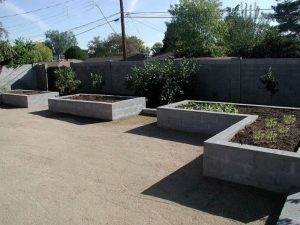 Got some blocks left over from a recent construction work? Then make a raised garden bed out of them. Just arrange the blocks in a square formation and voila, you have your own raised garden bed. You may use other materials as well as cement blocks, but they sure do look nice. "An Intelligent Approach to Garden Design" is a very good guide for this certain design.
Natural Wood Garden Bed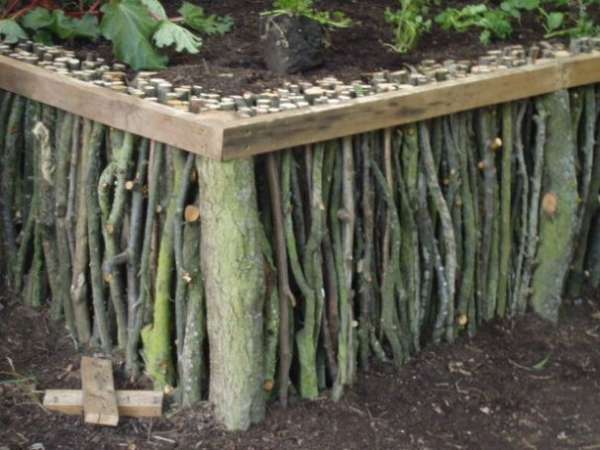 In saving cut branches from trees, you could make a very artistic raised garden bed. By sticking the pieces of wood together and cutting them down to the same height, you can have a naturally made garden bed. You can find varieties of this design on "Garden Design Workbook: A Practical Step-By-Course."
Raised Garden Beds for Vegetables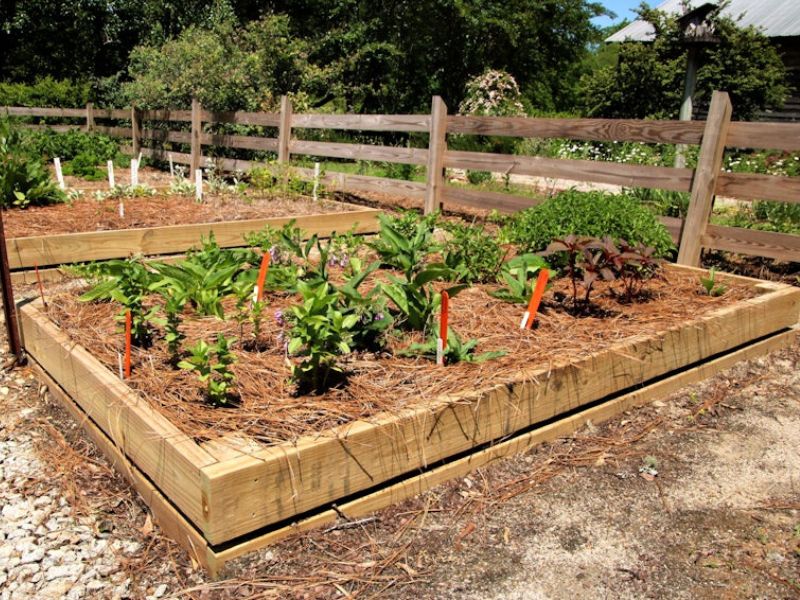 Most gardeners prefer to grow vegetables so they can reap the rewards of their hard work. A good way to organize and monitor the growth of your veggies is to grow them in a raised garden bed. Less work and easy harvest!
Elevated Raised Garden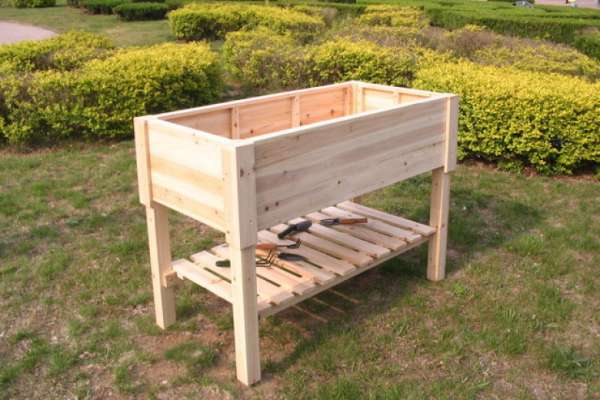 For people with back pains who like to grow plants in large quantity, this bed is for you. Raised from the ground to waist level, this bed has sufficient room for growing many plants. Cedar planters, which are of perfect height, are easy to grow, eliminating the need to stoop, bend, kneel, and reach.
Herb Wheel Garden Planter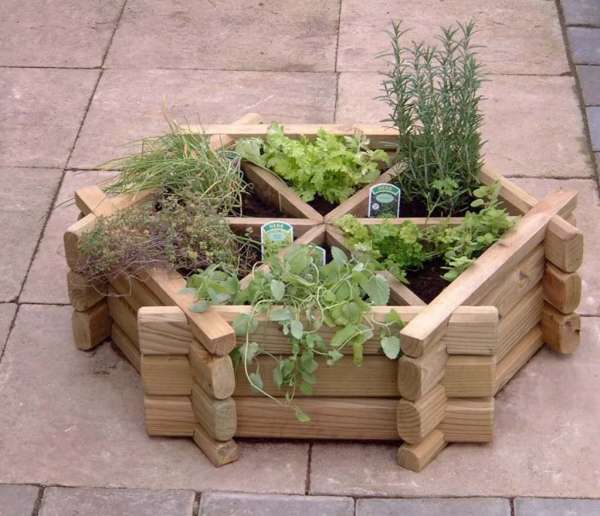 A garden bed in the shape of a hexagon is unique enough, but dividing it into triangular portions definitely makes it one of a kind and a very beautiful addition to the garden, even without any plants.
Mini Elevated Garden Bed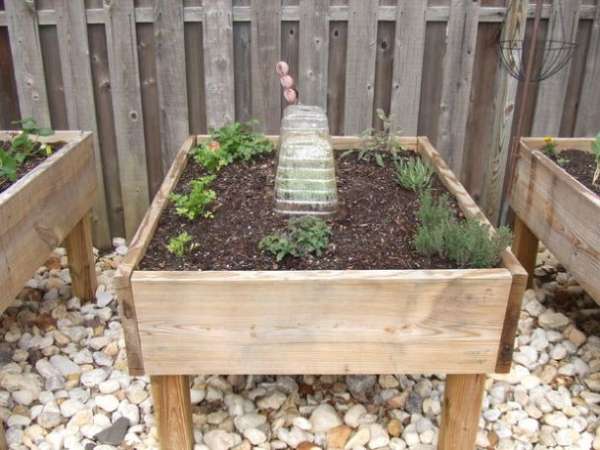 Without being raised much off the ground, these garden beds fulfill their purpose beautifully since they are primarily used for growing flowers and ornamental plants.
2×2 Planter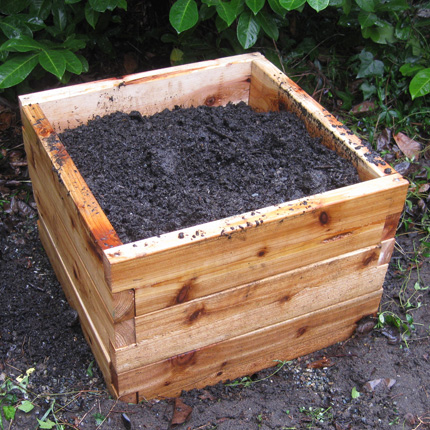 This serves as a perfect raised garden bed for people who don't have a lot of space but still love gardening. It gives you a small, petite bed that you can use to plant some flowers to liven up or just generally add beauty to your home. If you can't make your own, check out this Square Wooden Planter Pot with Zinc Metal Liner that comes in different sizes at an amazingly low price!
Recycled Masonry Herb Garden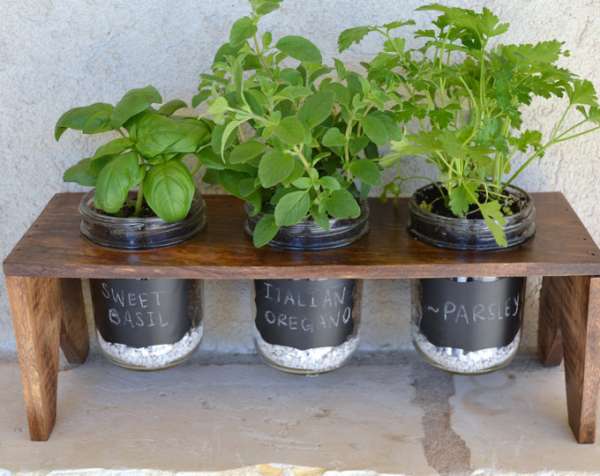 If you have some old masonry, a raised garden bed is a good idea. By using multiple masonry parts, you can make different shapes that would leave your garden looking like an ancient beauty. A perfect guidebook would be Gardening with Junk by Adam Caplin.
U-Shaped Raised Garden Bed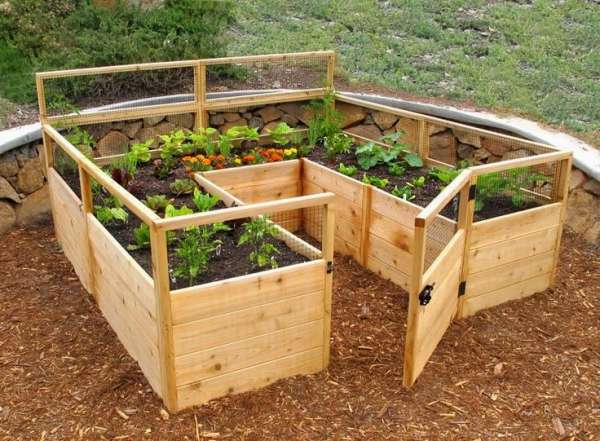 A large 'U' shaped garden bed with a long walkway in between. It is dividable, which will allow you to grow a large variety of plants. In order to maintain fertility and grow nutritious and healthy crops, check out this 5 of the world's best homemade fertilizers.
Balcony Sized Raised Garden Bed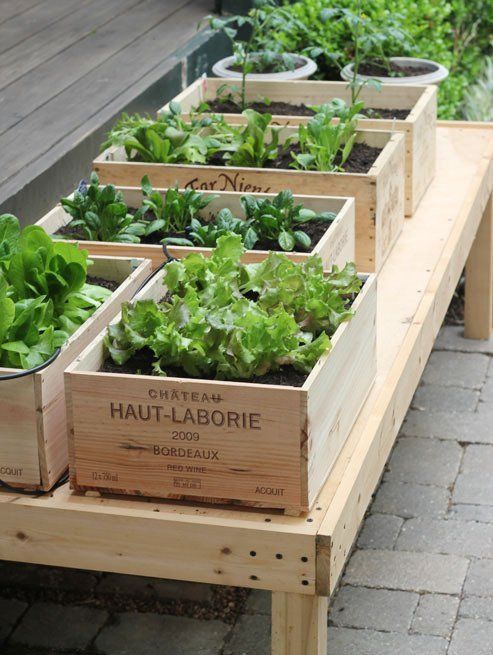 Turn old boxes into small raised beds for the patio or the balcony. For example, taking a wine box and planting some flowers in it is a nice way to recycle. Try the natural pine wooden box below. This Wooden Wine Box is perfect to be used as a planter or garden container.
The Adjustable Planter Bed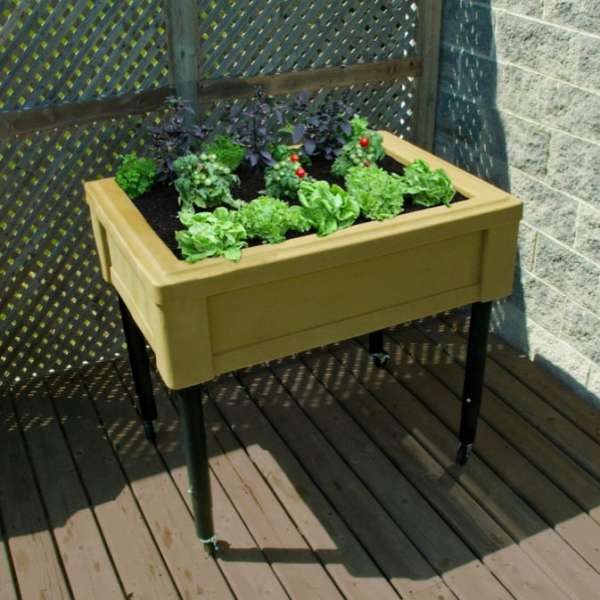 The downside of buying ready-made garden beds is that they might not fit in the space that you have. But worry not because this bed is adjustable to fit your needs. Joyce Russel's Build a Better Vegetable Garden focuses on DIY projects that you can also modify to make it fully adjustable.
Decorative Raised Planter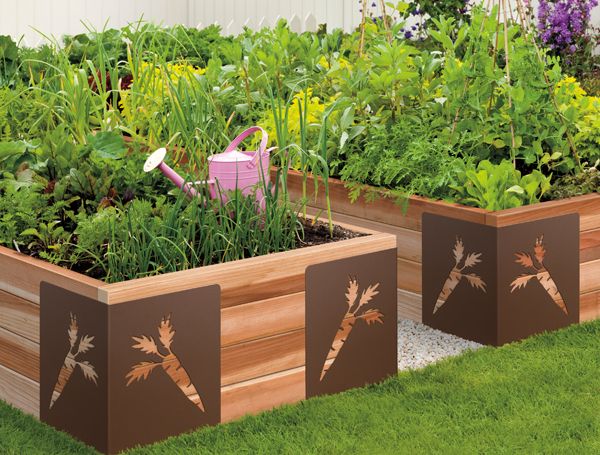 Adorned beds with beautiful designs don't contribute much in terms of practicality, but make your garden more appealing to the eyes. This will look attractive on the outside of your home and will add a little flair to your outdoor décor.
Reclaimed Wood Garden Beds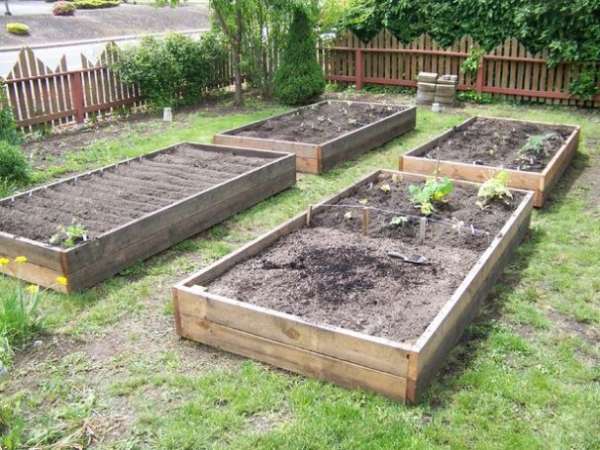 Old wood can make a great frame for a garden bed and provides the garden with a nice contrast of colors. Chuck Grandall's A Gardener's Guide to Planters, Containers & Raised Beds provides general information on these garden beds.
DIY Timber Raised Beds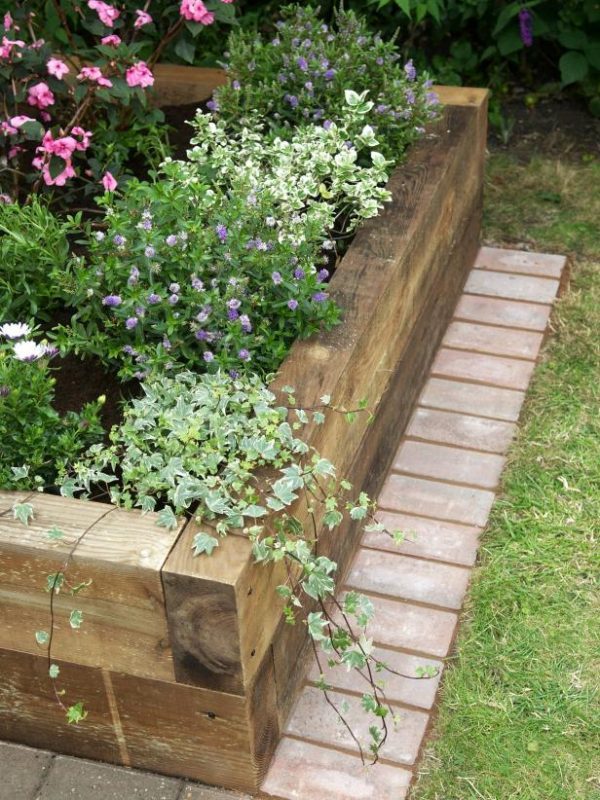 The best reason to make a timber-raised garden bed is the addition of natural beauty to your garden. By following simple and easy steps you can make your own raised bed to improve the look of your garden. Refer to Raised Bed Gardening: a DIY guide to Raised Bed Gardening for more varieties and guides.
Cedar Raised Garden Beds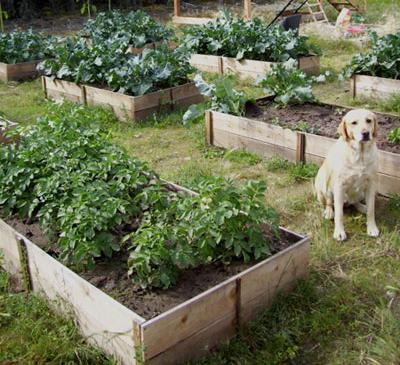 This raised garden beds is a great deal. They are not only beautiful but also affordable while also performing their desired function perfectly. Kimberly Bryne's The Low-Maintenance Raised Bed Gardening Book is a very good guidebook for low maintenance garden beds.
Other Easy and Ideas to Build Raised Garden Beds
To build a raised garden bed using bricks, stack the bricks together for a short bed or mortar them for a deeper bed. You will need about 20 bricks for an interior bed area of 4′ x 8′. Mortar is necessary if you desire a bed higher than 8″.
You can use concrete blocks or cinder blocks for building a raised garden bed but the latter may leach harmful chemicals into the soil and your food. Further, it is easy to build a raised garden bed using buckets, and stones (not ideal for small spaces).
As a tip, I recommend you to use drip irrigation system such as a drip line or drip tape to water your raised garden.
PS – In order to effectively and efficiently plant anything in your backyard, having the right cultivating tools is very important. Check out this 15 essential gardening tools for the small organic garden.