Starting a new vegetable garden can feel overwhelming. Proper vegetable garden design takes research, planning and plenty of experience. That's why we've put together this cheat sheet for you.
After reading this article you'll be able to pick the best location, prepare your soil so it is "teaming with microbes", plant your first crops and fill your kitchen with fresh vegetables over the summer.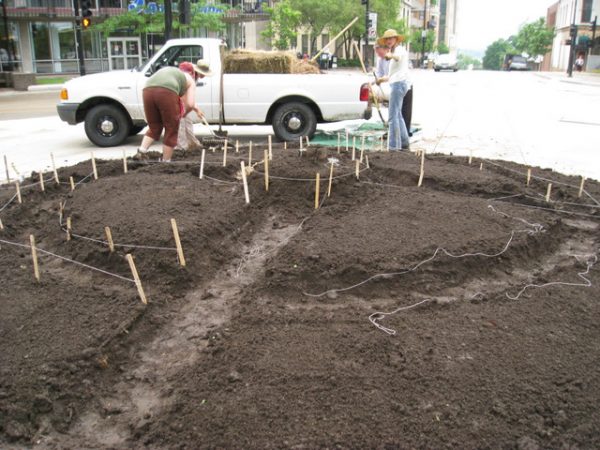 Choosing The Right Site For Your Vegetable Garden
The biggest factor in your garden's success is ensuring that you choose the best possible area to plant and grow your crops. Adequate sunshine is the most important thing to consider.
Vegetable gardens in particular need a lot of sunshine. The more sun your crops get the faster they'll grow and the better they'll taste. Take a walk around your garden in the early morning and note which areas catch the early rays of the sun.
Given the choice it's better to plant your garden on the sunrise side of your house. The early morning sun quickly warms the soil and isn't as harsh as the late afternoon rays.
Next you'll want to check your garden again a few hours before sunset. Are there areas that get both the morning and afternoon sun?
Vegetable gardens need at least 6 hours of sunshine everyday to grow their best
Click To Tweet
If you don't have any areas with enough sun, then you might consider joining or starting a community garden which will have plenty of sunny plots to choose from. Alternatively, choose your sunniest spot, and grow cool season vegetables that don't require lots of sun to ripen fruits or promote growth.
Take a note of where your sunniest areas are then move on to the next step.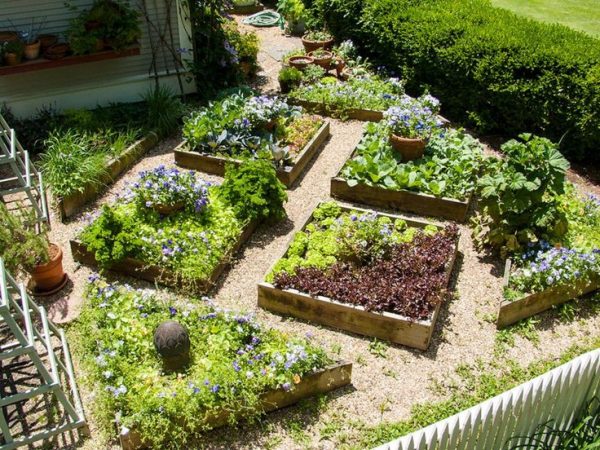 Compare Your Available Vegetable Garden Areas
You should have 2-3 areas in your garden that get at least 6 hours of sun each day. Next you'll want to evaluate each area to find the one that is most suitable for growing vegetables.
Veggies require lots of water, plenty of nutrients and ongoing maintenance. But it's important to also consider how the surrounding gardens will affect your crops.
Are there any big trees nearby that will steal the nutrients and water from your crops? Perhaps, there is a newly planted hedge that will grow and shade out your plants over the next few years.
Perhaps the plot is a long way from the kitchen, making it harder to access and maintain. Or it's on top of a sloped area which means you'll have to terrace the beds and constantly be lugging things uphill.
Here's what you should look for:
Access to water
Surrounding trees and plants
Proximity to your kitchen
Maintenance access
Slope of the land
Protection from hungry animals like rabbits
After you've considered all the things that might effect your new garden you should have one clear winner. Congratulations, you've just found the best place for your new patch!
Don't have a big backyard? You can still grow plenty of vegetables and fruits in containers. You can even try growing these 8 deliciously tasty berries in containers.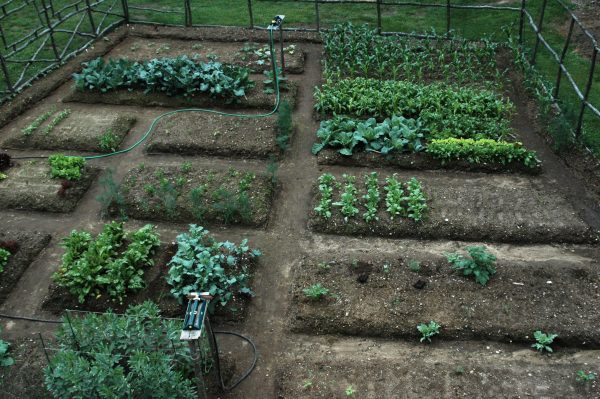 Planning Your Vegetable Garden Design
Now that you've selected the best plot for your new vegetable garden it's time to start planning. This is where you'll decide where your access paths will go, how you'll water your plants and how big your garden is going to be.
Let's start with the best size for your new vegetable garden design. Use the guide below to help you choose the perfect size for your family and skill level.
4×4 feet – beginner garden for growing salad greens and herbs
10×10 feet – grows enough for 1 person
20×20 feet – grows enough for 2 people
40×40 feet – plenty of food all year round for a family of 4
For a step-by-step guide to growing food in small gardens I highly recommend reading The Intelligent Gardener. If you're lucky enough to have a large garden then The Market Gardener is well worth a read.
The width and length of your garden will likely be different from the sizes above, especially if you've got a small backyard. Choose a size that you're comfortable with, and adjust the width and length as needed – keeping the total square footage the same.
If this is you're planning your first vegetable garden then I highly recommend reading this beginners vegetable gardening guide here.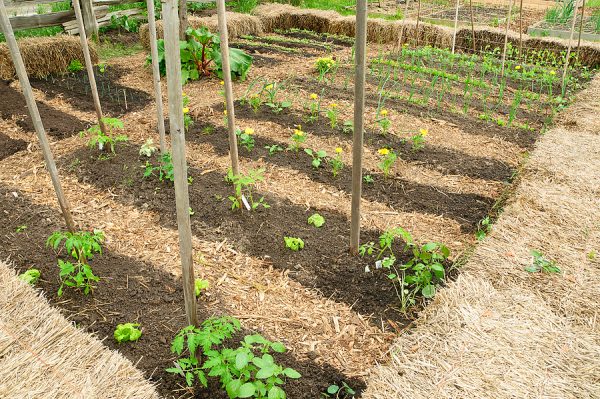 Designing Your Vegetable Garden Rows
Vegetable gardens are best grown in rows or blocks (which are really just wider rows). There are some plants that need to be planted in blocks to produce a crop such as corn. Other plants do well grown in rows and rows are much easier to maintain.
So what's the best option for your new vegetable garden design?
If you've got a lot of space and you're planning a big vegetable garden (20×20 feet or more) then you should plant in rows. For smaller gardens, block planting will grow more food in the same area as row cropping does but it'll require more time to maintain.
No matter which option you choose, I find that wider rows work best. Ideally, rows should be at least 2 feet wide but no more than 4 feet wide. I find the best width for most gardens is 3 feet.
If you're a smaller person (with shorter arms) then keep your rows to 2 feet wide so you can still reach the center of each row easily. Remember that you'll be able to access your rows from either side. So your arm will have to reach 1 foot into each side of a 2 foot wide row.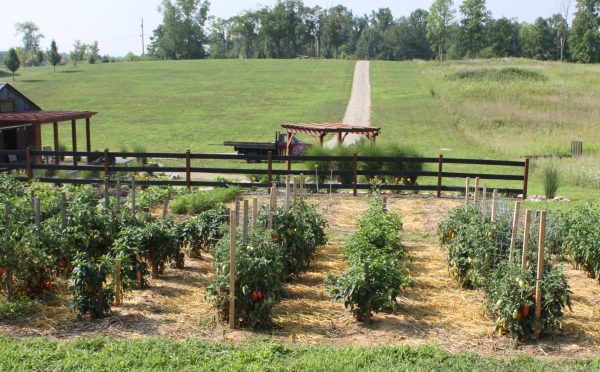 Positioning Your Vegetable Garden Rows
It's not enough to just decide on the width of your rows. You also need to angle them the right way! Rows that are incorrectly positioned will grow crops that shade out other rows, making it harder for you to grow your plants well.
The sun rises in the East and sets in the West for both the Northern and Southern hemispheres. Therefore rows should have their ends pointing North and South. As the sun moves across the sky it will warm the rows on the east side of your garden first and the west side later in the day.
When planting your rows, wherever possible plant your tallest crops at the back your garden rows. In Northern Hemisphere the sun is in the South, so the back of your rows is the North side.
In the Southern Hemisphere the opposite is true – plant your tallest crops on the South side of your garden. This ensures that the tall crops don't shade out your shorter plants as the sun moves across the sky.
When you do have to plant taller crops in the front of your rows, choose shorter varieties or train them so they are no more than 2 feet high. This ensures your other crops don't miss out on the sun.
Note: some textbooks suggest facing your rows East/West as this warms your soil faster and earlier in colder climates. If you prefer this method then make your access paths between rows at least 4 feet wide. This way your paths will be shaded when you grow tall crops and your rows will not.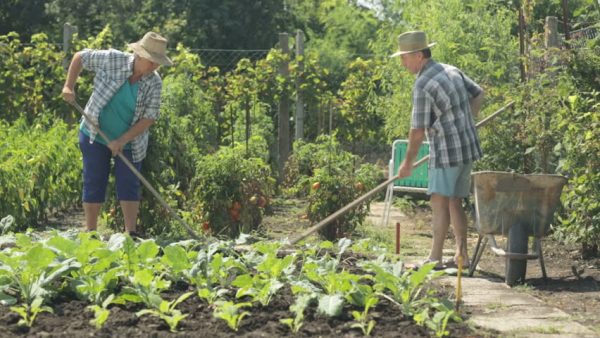 Vegetable Garden Designed For Easy Access
Every vegetable garden needs to be maintained. It may not seem like a big deal right now but don't neglect your access paths! You probably want to grow the most food you can in the space available, but just remember you need to be able to get in and maintain your crops (and harvest them!).
Your vegetable garden design should have one main access path that you can use for wheelbarrows (I highly recommend using his Easy Tip Gorilla Cart or the WORX Multifunction 2-wheeled cart instead) to bring in soil and equipment. Secondary access paths should be no more than 12 feet long between your main paths.
The main access path should be 4 feet wide. Your secondary access paths (the space between rows) should be no less than 2 feet wide. This will ensure you'll always have enough space to move around easily.
There's nothing more frustrating than having to tiptoe around your crops to harvest or tend a plant. Not only will you take forever to maintain your garden, but you'll break plenty of branches and squish young seedlings in the process.
Good access paths are key to every productive vegetable plot.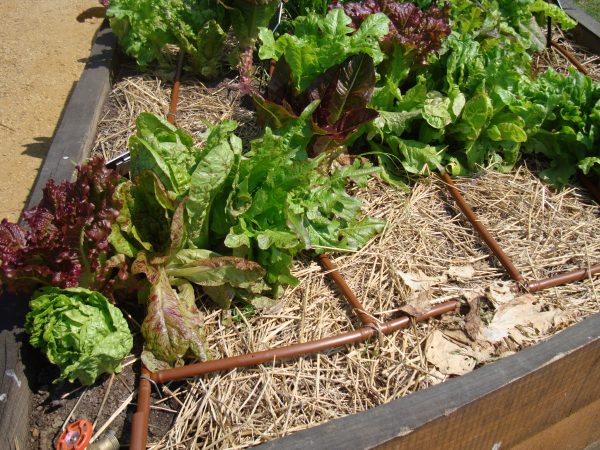 Planning Your Vegetable Garden's Water Supply
Vegetables need a lot of water. It is by far the most important nutrient that your plants need to grow big and healthy crops. The majority of vegetables and fruits are more than 80% water by weight.
Almost all nutrients are water soluble as well. That means that without water, your crops can't access the nutrients in your soil. But too much water is also a bad thing. It can wash away nutrients and drown plants (plants breathe oxygen at their roots too).
The best water system for all vegetable gardens is drip irrigation (I highly recommend this drip irrigation starter kit). Overhead sprinklers are not only ineffective and waste a lot of water, but they quickly spread pests and diseases around your garden.
Many plants, such as tomatoes, will split their fruits if the fruit gets wet. So overhead irrigation also spoils many crops. Drip irrigation on the other hand, provides water directly to the root zone of your plants.
It drips the water out of the tubes very slowly, which is exactly what your plants want – a consistently moist soil. You want to avoid letting your soil dry out too much between watering as this builds up salts and slows the growth of your crops.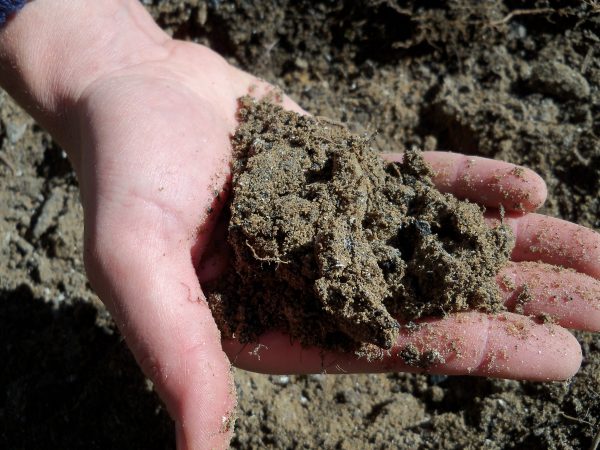 How Often Should You Water?
Every garden is different. In Australia you'll need to water your crops 2-3 times a day to survive the scorching heat of summer. Cooler climates such as England may only need to water their crops once every few days.
The best way to set your watering schedule is to check your garden regularly. You can then adjust your irrigation system to water more often if your soil is drying out too fast. Or reduce the time or frequency if your soil is too wet.
To determine if your soil is too wet or too dry (or just right), dig a handful of soil from the centre of your garden bed. Don't use the edges as these dry out faster from the wind. You should also do this test right in the middle of your irrigation cycle (so if you water at 8am and 8pm, then check at midday for the most accurate test).
Squeeze the soil as hard as you can in your fist.
If water streams out and drops to the ground your soil is too wet.
When very little water comes out your soil is too dry.
But if just enough water comes out to run down your arm with a few drops falling to the ground then that's perfect.
If you really want to be certain you're not over or under watering then use this soil moisture tester (also great for beginner gardeners). It shows you exactly how much water is in your soil and takes the guesswork out of watering.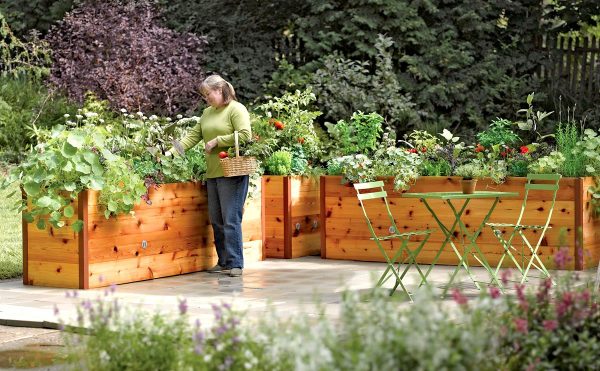 Raised Beds or Inground Rows
Wherever possible grow your crops in the ground. The soil stays warmer year round and your plants roots have more access to nutrients in the surrounding soil, and deeper in the ground.
Raised beds (like these easy to build DIY raised bed kits) should be considered when you need to improve drainage, because your soil is heavy clay. Or when you need crops at waist level for easier access. Raised beds also look neater which is why they are popular for backyard gardeners.
Keep in mind though that raised beds don't last forever and also require maintenance to keep them looking good. The type of materials you use to build also plays a role in your garden's success.
Treated timber should be avoided, or at the least a barrier installed to stop the chemicals leaching into your soil. Plastic pond liner works well for this and is cheaply bought online here.
Other materials such as bricks or limestone blocks can affect your soils pH and should also be sealed to protect your crops. Pond paint (I recommend using this non-toxic sealer) works well for sealing porous materials and will greatly reduce the material's effect on pH levels and soil nutrients.
If you're short on space then you can still grow plenty of great tasting vegetables and even fruits. I highly recommend reading 21 Best Container Gardening Vegetables and Pot Friendly Fruits.