Growing some vegetables side-by-side can have positive effects on one or both of the plants involved.
This method of planting is called companion planting, as in, a companion who supports or benefits its partner. This companion gardening method results in a better harvest, smaller pest controlling measures and best of all, decreased work for you.
Companion planting has been around for quite a long time. In fact, avid gardeners all over the world have been benefiting from this concept for over a century now. Techniques might differ from region to region. However, the purpose is the same: companion plants help each other in taking up the nutrients, attracting pollinators or improving pest management.
Some of the pairings in this article might seem a bit unorthodox but these combinations have been successful in many companion gardens. Without further ado, let's begin.
Roses and Garlic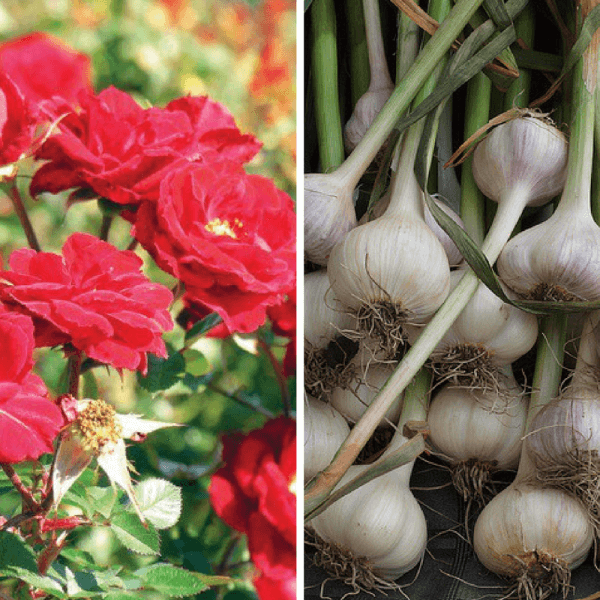 Garlic and chives have been known to act as nature's bug repellant. This is especially true for the bugs that prey on rose petals. Plus they also look good growing alongside rose petals, by providing the roses with a backdrop of foliage.
Cabbage and Tomatoes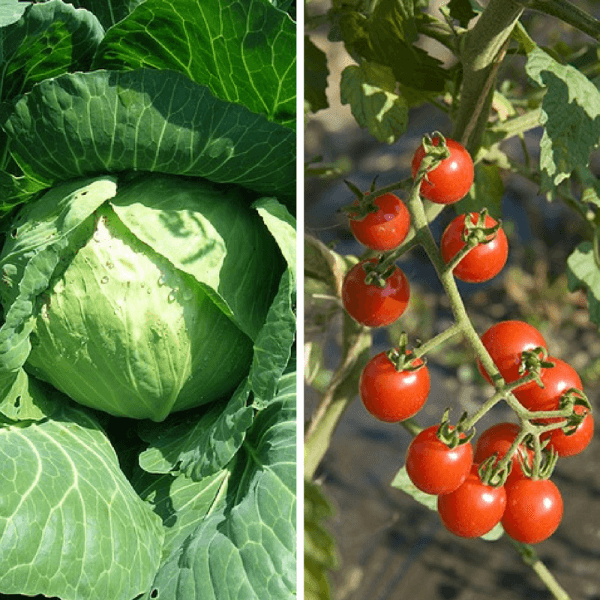 Tomatoes and cabbages are truly best of companions. The tomato makes sure to get rid of the cabbages biggest enemy, the diamond-backed moth larvae. As a thank you, the cabbages keep the tomato bollworm at bay. So you could say that the tomatoes and cabbages have a mutually beneficial relationship. This type of pairing is very common and beneficial in companion planting.
Marigold and Melons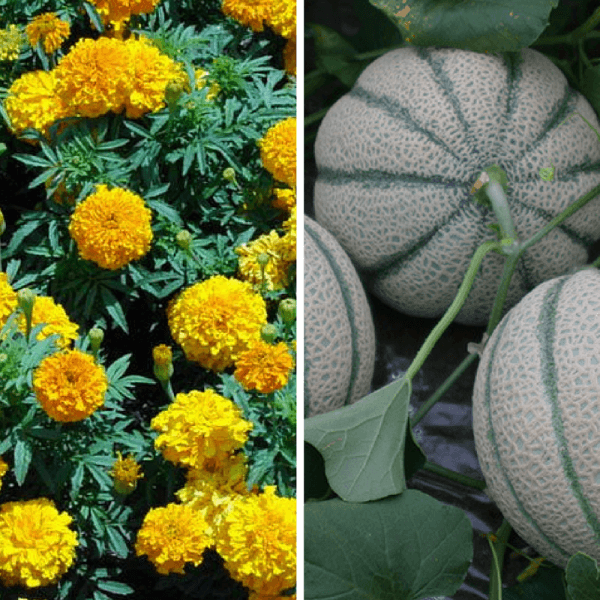 One of the biggest problems that gardeners face while planting melons is that nematodes are in love with melon roots. Mysteriously enough, planting marigold with melons effectively repel insects.
Melons are one of the easiest to grow vegetables for containers. If you'd like to find out more about container grown crops then visit 21 Best Container Gardening Vegetables and Pot Friendly Fruits
Cucumbers and Radishes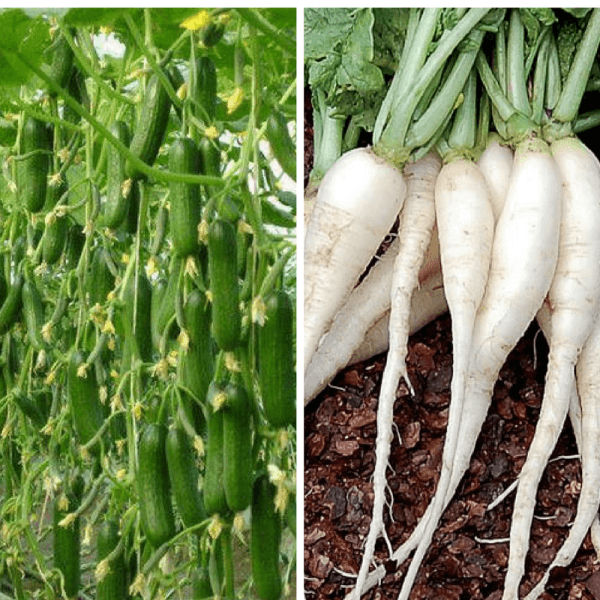 The safest place to plant cucumbers is right next to radishes. This is one of the more common pairings in companion gardening. The radishes get rid of the beetles without the use of toxic pesticides. While on the other hand, the cucumbers improve the growth of the radishes.
Cucumbers and Sunflowers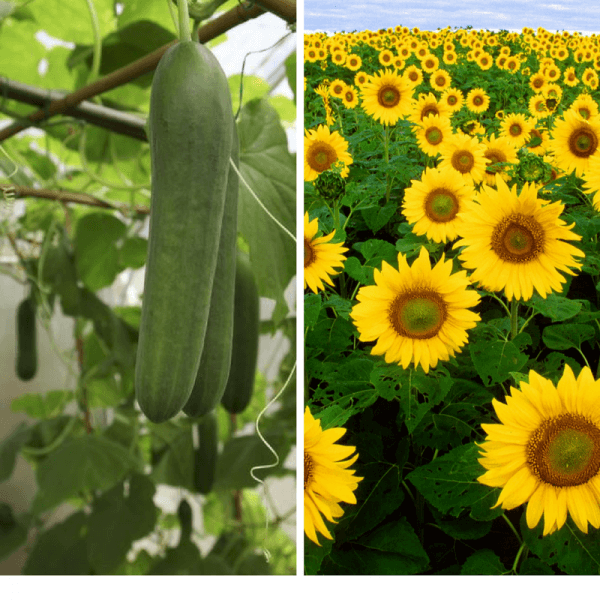 Although this companion pairing might seem a bit odd, however, it has actually proved to be very beneficial for both plants. The benefits are less in terms of pest control and more in terms of environmental protection. Since cucumbers can easily be dried up in heat if left out, it's best to plant them besides the tall sunflowers that can provide shade from the hot mid-day heat.
Corn and Beans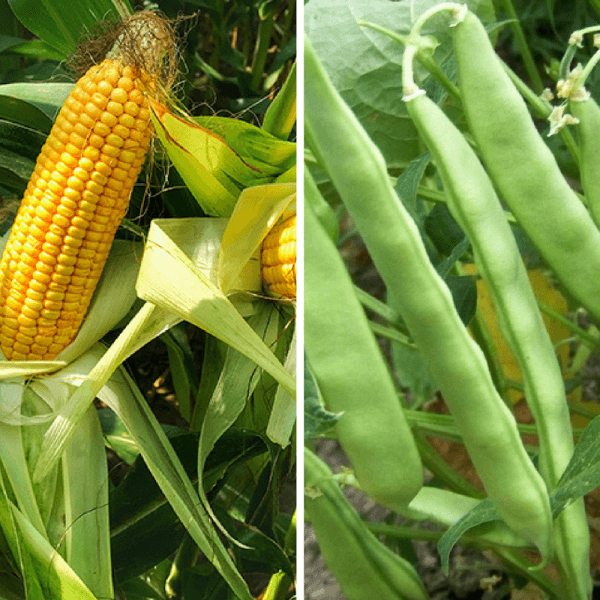 Corn and beans are more on the odd side of companion gardening pairs. Instead of repelling, the beans actually attract insects that are beneficial. These insects end up eating other insects that would like nothing more than to destroy your corns. Also, the bean vines can use the tall corn plants to their benefit by climbing up the corn stalks.
Radishes and Spinach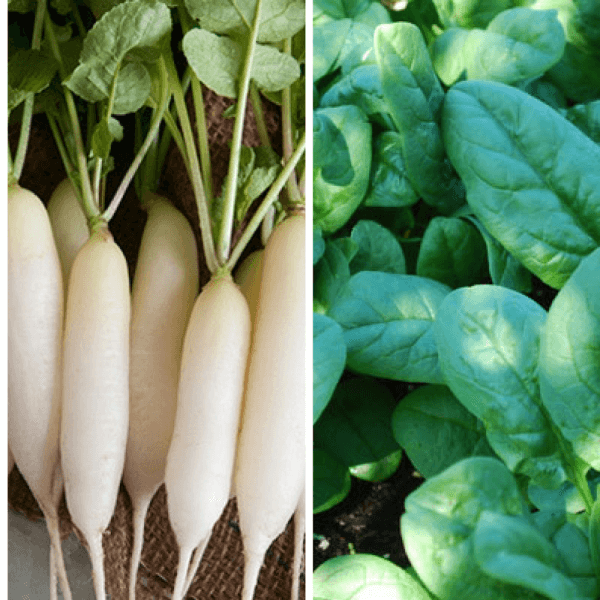 Radishes amongst spinach keep the leaf miners away. These insects prevent the proper growth of your radishes by causing damage to the spinach leaves which stunts their growth underground. This method spares the spinach as the miners instead prey on the radish leaves.
Lettuce and Carrots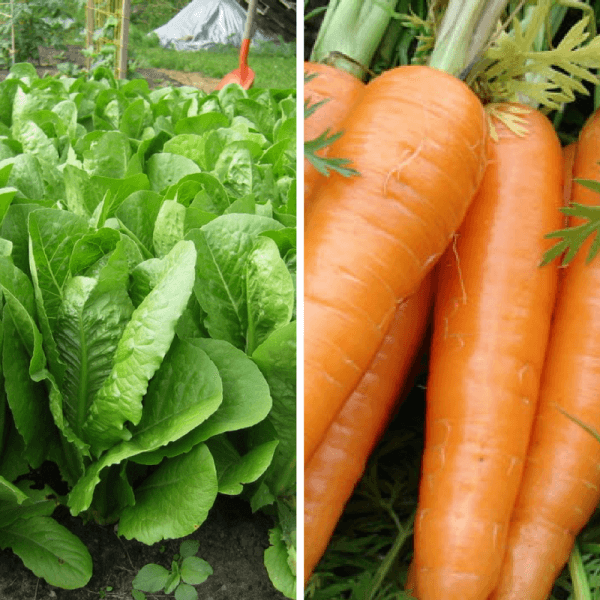 This companion planting pair is more about spacing rather than keeping the pests away. By planting the lettuce between the rows of carrots (works with onions and beets as well) you will greatly reduce the chances of weed growth. The best part about this companion planting is that once your veggies start to grow in size and require more room, simply pluck out the lettuce and grace your table with a beautiful green salad.
Lettuce and carrots are very easy to grow crops. If you'd like the full list then read 17 Incredibly Easy To Grow Vegetable Garden Plants for Beginner Gardeners
Peppers and Pigweed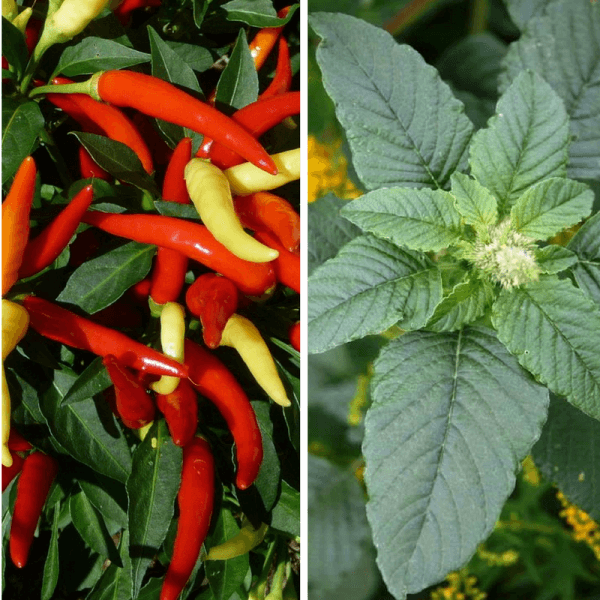 Companion gardening is probably one of the best ways to keep your plants chemical free. It may seem strange, but peppers and pigweeds have proved to be good companions. You only need to make sure that you remove flowers before the weeds set seed.
Swiss Chard and Sweet Alyssum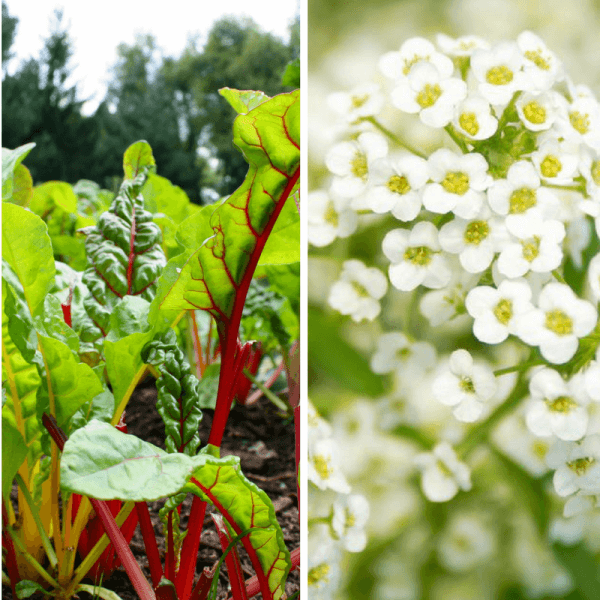 Alyssum attracts hoverflies, which is great especially because these insects prevent aphids from ruining the plants. Alyssum is also a low growing flowering plant is it is quite easy to grow them between rows of sweet chards.
Squash and Flowering Herbs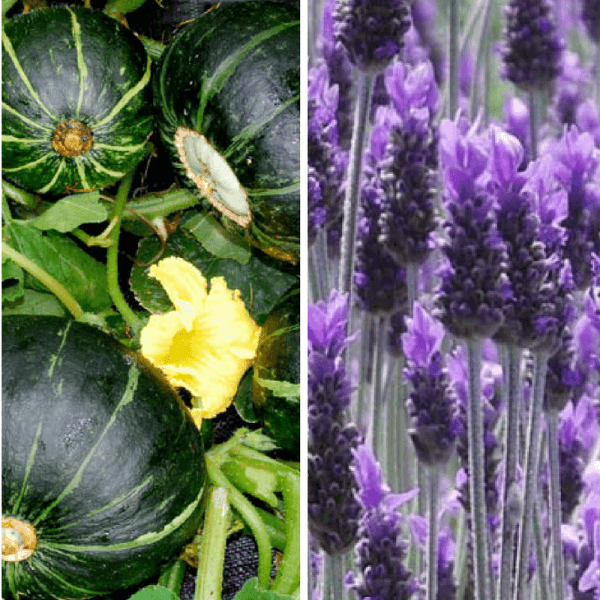 Companion planting is not just about growing two plants together; it takes into account factors such as pollination, plant growth, number of fruits ripening etc. Plants such as squash need pollination for their growth. Growing flowering plants such as fennel, dill, and parsley keeps pests away from squash and improves pollination.
Growing flowering plants such as fennel, dill, and parsley keeps pests away from squash and improves pollination.
Click To Tweet
Cabbage and Dill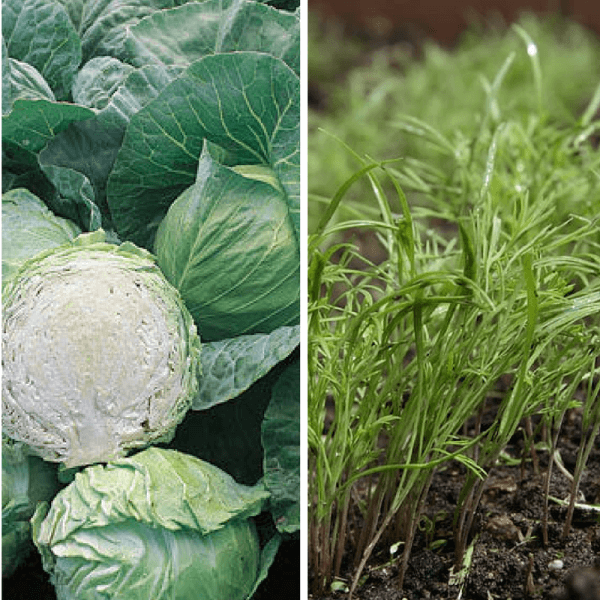 Dill and cabbage have a great mutually beneficial relationship. Dill keeps away cabbage worms and other insects that gnaw on the cabbage leaves. In return, the cabbage plant provides support to dill and prevents it from sagging.
Lettuce and Eggplant or Tomatoes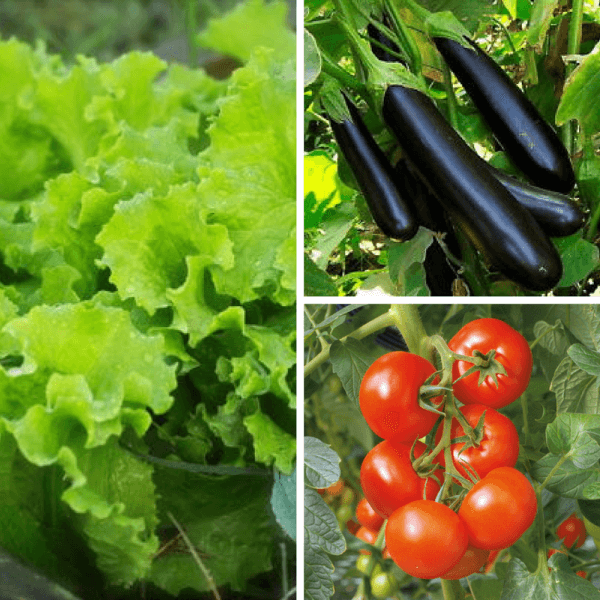 Companion planting also promotes pairing plants with different growth habits. Eggplants and tomatoes grow quite tall and are perfect for providing shade for veggies of cool season. Crops like lettuce enjoy a shady and cool garden bed which is why growing them in the shade of eggplant or tomatoes is an effective way of maintaining cool temperatures.
Many gardeners struggle to grow tomatoes. Truth is it's easy if you start with the right ingredients in the planting hole. Check out Do These 9 Things To Grow The Best Tomatoes Ever
Spinach and Radishes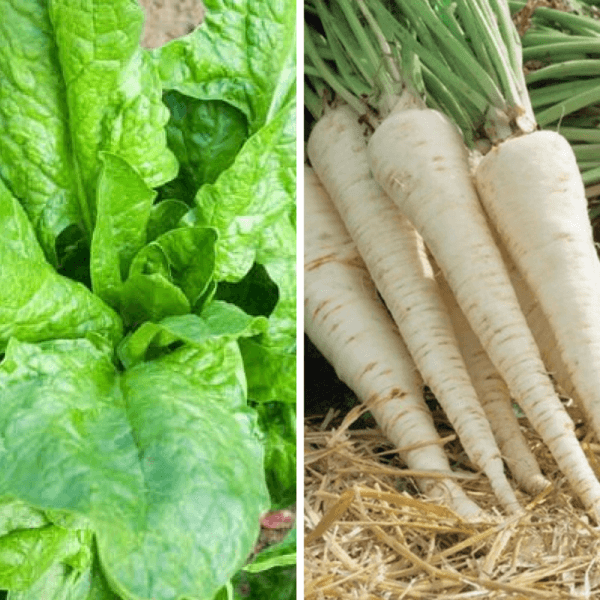 Leaf miners can considerably damage spinach leaves. In order to save spinach, grow radishes among spinach plants. Leaf miners will happily nibble away on radish leaves leaving spinach alone. On the other hand, radishes will continue to grow nicely underground.
Tomatoes and Basil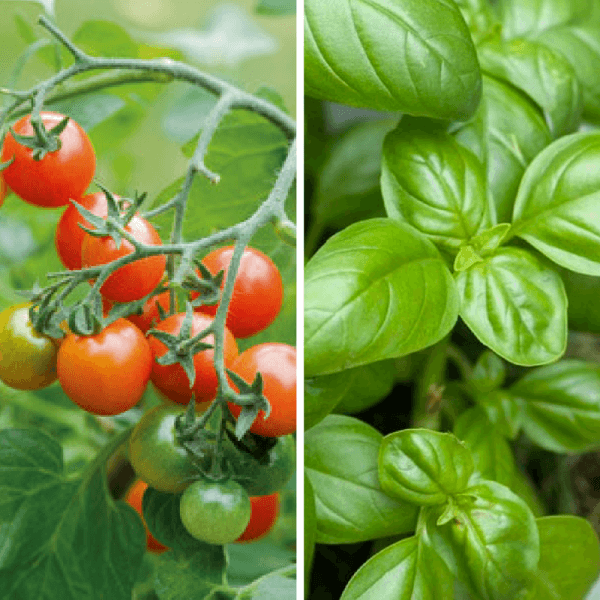 Gardeners believe that planting basil near tomatoes is beneficial for both plants. Basil has a very strong smell that naturally repels pests thus leaving the tomato plant pest free. Additionally, this companion gardening trick is effective for enhancing pollination. Tomato and basil pair well in the kitchen too!
Potatoes and Sweet Alyssum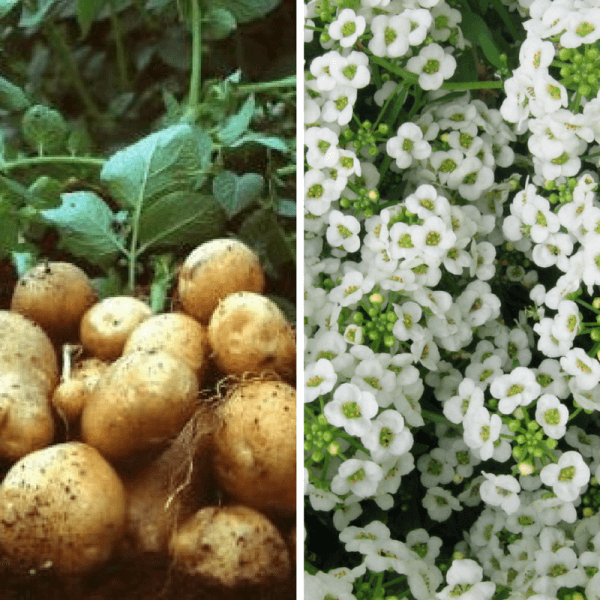 Sweet alyssum is very fragrant and ornamental plant that can form borders better than a fence. Companion planting potatoes and sweet alyssums result in increased chances of pollination as flowers of sweet alyssum attract predatory wasps that also pollinate potato flowers. You can even let it grow on the ground beneath tall plants such as broccoli to help reduce cabbage moth. Nevertheless, you will have a lasting fragrant scent in your garden all summer.
Lettuce and Garlic or Chives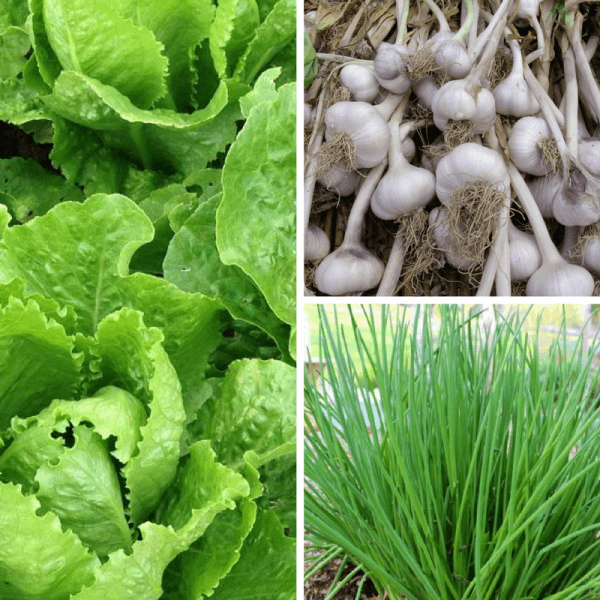 Tired of aphids ruining your lettuce plant? Try planting chives or garlic near your lettuce. Aphids hate strong smelling plants and the scent of chives and garlic will keep your lettuce safe.
Dwarf Zinnias and Cauliflower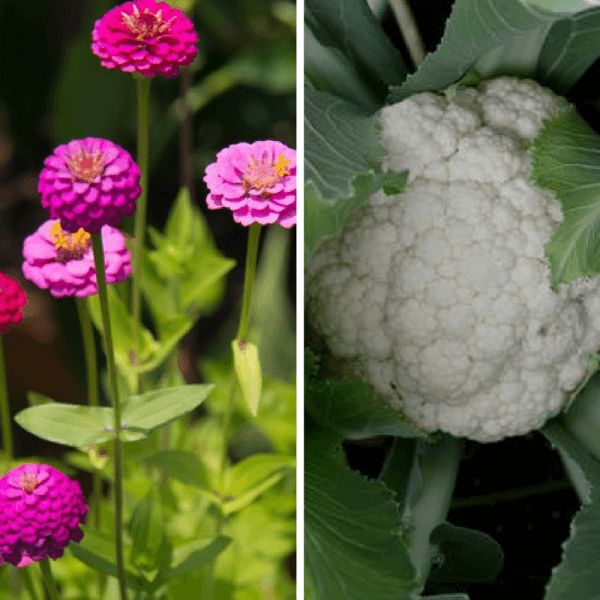 Dwarf zinnias are bright and beautiful plants that lure ladybugs and other insects due to its sweet nectar. This, in turn, also helps protect cauliflower.
Strawberries and Love-In-A-Mist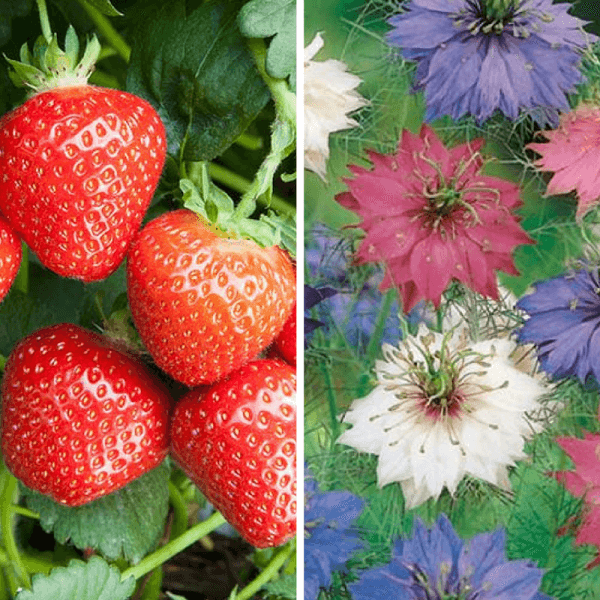 Companion gardening is an effective way of maintaining the mutually beneficial relationship among different plants. Pairing veggies and fruits with ornamental plants increases the beauty of your garden along with providing protection to the companion plant. Growing beautiful Love-in-a-Mist near red strawberries is a great way of adding colors and aesthetics to the garden layout along with increasing pollination.
Cucumbers and Nasturtiums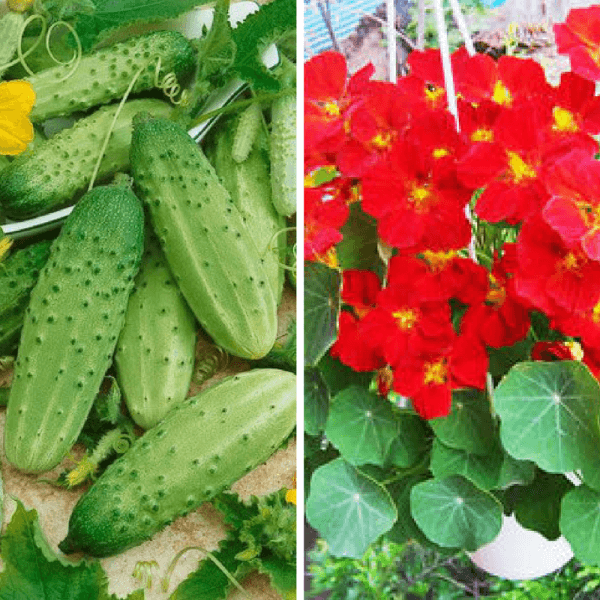 Nasturtiums are a home for predatory insects such as ground beetles and spiders. In addition, they are notorious for repelling cucumber beetles. The vining stem of nasturtium plant makes them a really good companion for your cucumber vine. Nasturtium also forms a good companion pair with squash and both the leaves and flowers are edible. The peppery taste goes well in a salad and you can cool off your tongue with cucumber slices.
Catnips and Collard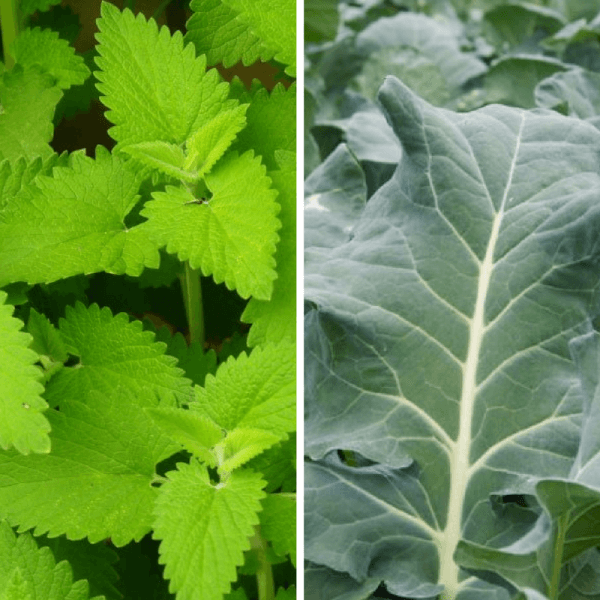 Companion planting catnips along with collards prevent cabbage moth and beetle from damaging your collard plant. Catnip is also among one of the 8 plants that naturally repel mosquito thus providing its user with the additional benefit of being mosquito repellent.
Roses and Chives or Geraniums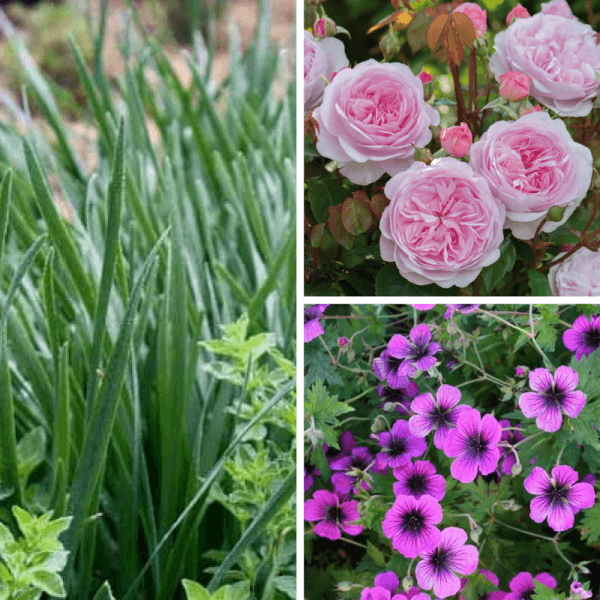 Beetles and aphids seem to multiply overnight. As they feed on healthy plants, their presence becomes a nuisance for gardeners. Plants with a strong odor help to repel insects and aphids which is why they are so good at protecting your roses from insects.
Chamomile and Cabbage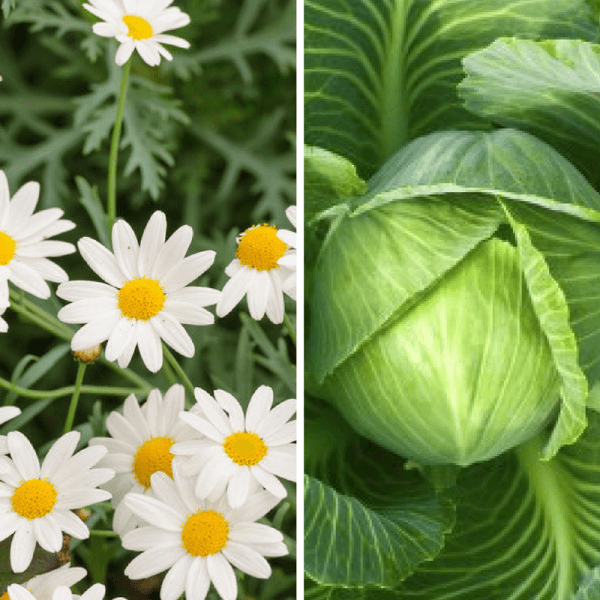 Chamomile will attract beneficial insect species for cabbage which helps in increasing pollination and pest resistance. Moreover, Chamomile flowers make a very tasty tea and the plant is also great for enriching your soil.
Broccoli and Calendula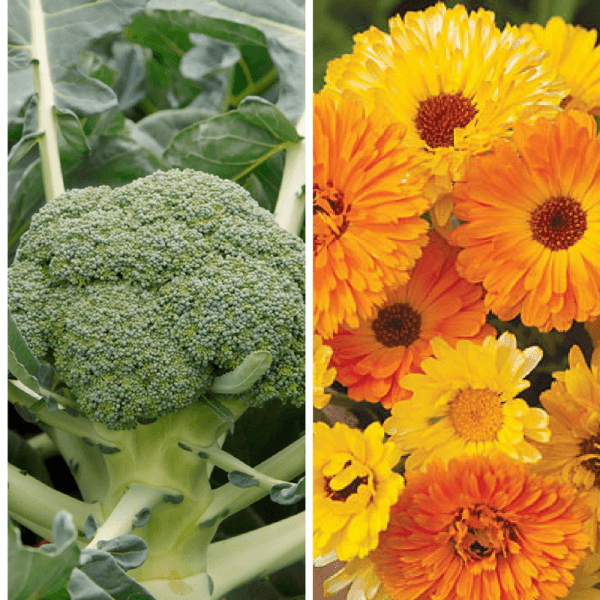 Companion planting may seem a bit strange at times. If you grow calendula near a brassica crop, especially broccoli, it will protect the crop from aphids. Calendula exudes a sticky substance that effectively traps aphids. The beneficial ladybug is also attracted to calendula flowers and will get fat on all the aphids stuck to the stems and leaves.
Pole Beans, Corn and Squash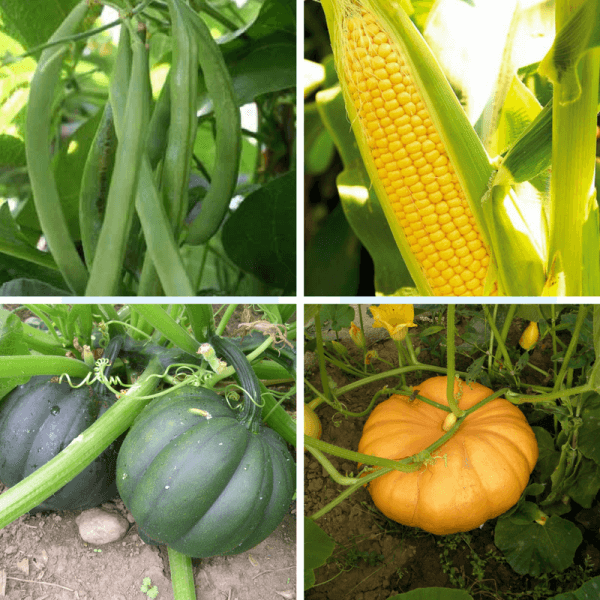 This type of companion gardening originates from Native America and is called 'Three Sisters'. Beans need a place to climb and corn provides them that support. The leaves of squash or pumpkin have a wide surface area which effectively creates living mulch that retains moisture and reduces weeds. Beans, in turn, convert atmospheric nitrogen to a form that is beneficial for the plants, especially the hungry corn.
Borage with Squash, Tomatoes or Strawberries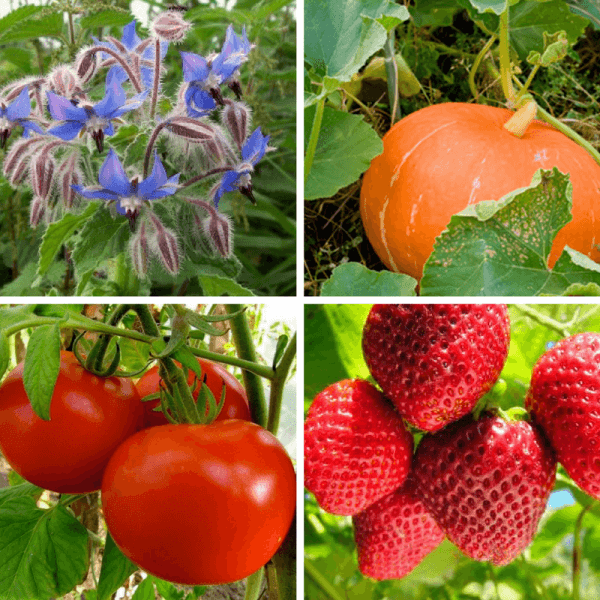 Growing borage near your squash, tomatoes or strawberries keeps away unwanted pests from these plants. Borage is especially good at repelling tomato worms. It also improves growth and flavor of companion plants.
Corn and Soybeans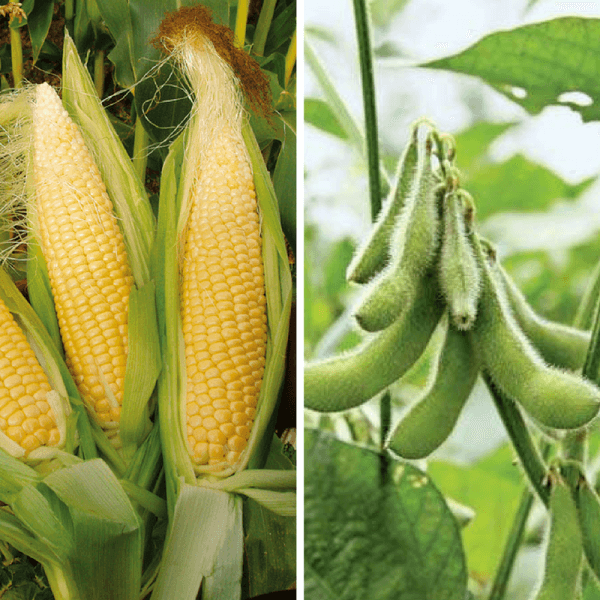 Soybeans naturally repel chinch bugs which is beneficial for corn. Both plants help each other by improving pest control and attracting pollinators.
Marjoram and just about all garden crops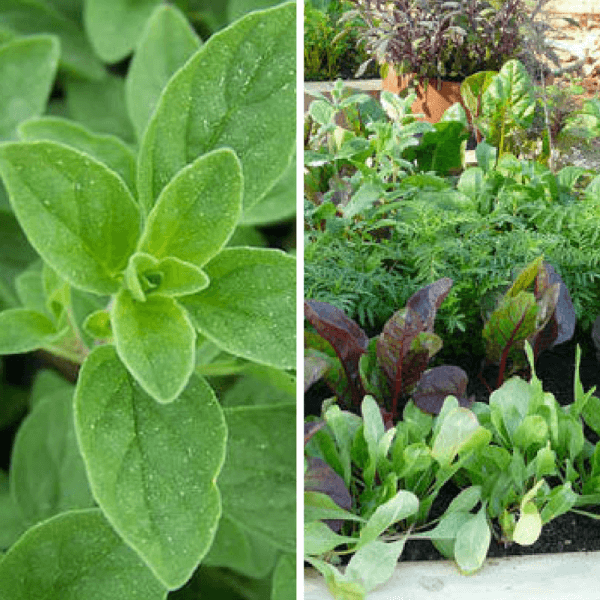 Marjoram has the ability to stimulate vegetable growth so you can plant it near any of your garden crops. It will help the nearby plants in growing tall and strong. Plus it taste great with just about anything!
Companion Gardening With Parsnips, Onions and Wormwood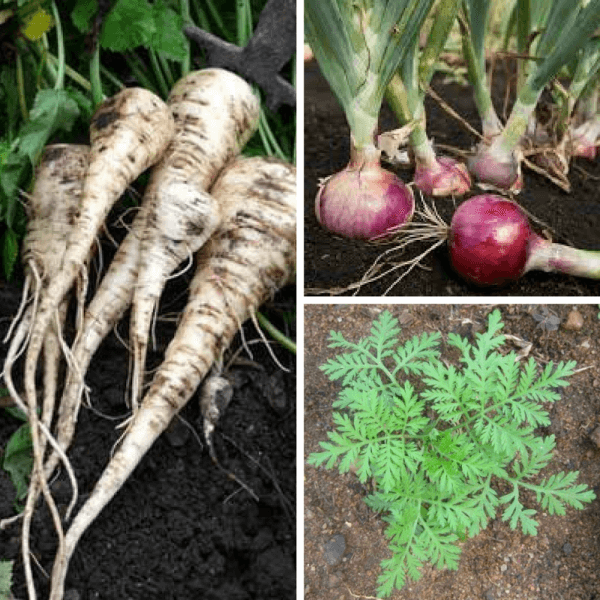 Harvest parsnips near onions or wormwoods to keep away root maggots that ruin parsnip crops.
Some companion plantings might seem a bit odd and may even lack scientific evidence. If you look around in your ecosystem you will notice that there is never a section of just one specific species. An ecological niche is always filled with a wide variety of species, all with different needs and performing different functions.
Companion gardening is a way of mimicking the natural ecosystem. It saves space and is especially beneficial for small gardens as it keeps the soil moist and weeds out. If you're looking for more gardening tips then read 27 Tips For Beginner Vegetable Gardeners
All of these pairings are backed up with years of wisdom and hands on experience passed from one gardener to the next. Many gardeners claim that they learned about such pairings from their grandparents or even great-grandparents. In the end all you need to do is try these pairing and see what works; after all, experimentation is the true fun of gardening.
Happy planting!
PS – One of my favorite companion gardening books is Carrots Love Tomatoes. Check it out and let us know what you think!