The Alpine Yellow Wonder Strawberry is a unique and beloved type of strawberry. It has been around for centuries, and its delicious flavor and aroma have made it a favorite among gardeners and chefs. This variety of strawberries was first developed in Switzerland in the 18th century. However, it can now be found in a large portion of Europe and some regions of North America and Australia.
What is Alpine Yellow Wonder Strawberry?
Alpine Yellow Wonder Strawberry is an heirloom variety of strawberries originating in Europe. The plant is a perennial, meaning it can produce fruit year after year without any replanting required, and its small yellowish-orange berries are known for their sweet flavor. This particular kind of strawberry does well in areas with mild weather, like the Pacific Northwest.
It does best in well-draining, slightly acidic soil and prefers a sunny spot with protection from strong winds. Alpine Yellow Wonder Strawberry plants grow about 12 inches tall and produce fruit from late spring through mid-summer. The berries can be consumed straight out of the container or added to jams, jellies, compotes, and other sweets.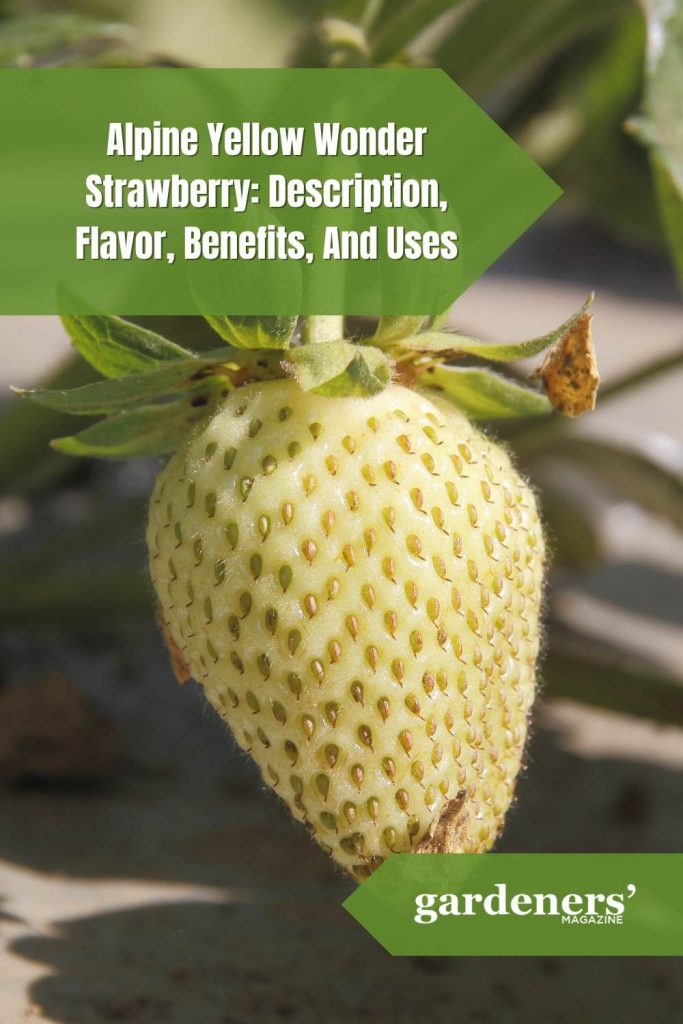 History and Origin of the Alpine Yellow Wonder Strawberry:
The Alpine Yellow Wonder Strawberry is a unique variety of strawberries with a distinct yellow color. While this specific variety's detailed history and origin may be challenging to trace, it belongs to the broader Alpine strawberry group, which has a rich history.
Alpine strawberries (Fragaria vesca) are a wild strawberry species native to Europe, Asia, and North America. These wild strawberries have been consumed for centuries and have a long history of cultivation. Alpine strawberries were likely among the first to be cultivated by ancient civilizations.
Appearance of Alpine Yellow Wonder Strawberry:
The Alpine Yellow Wonder Strawberry is easily recognizable from other strawberry varieties due to its bright yellow hue. Its berries are small and round, with a vibrant golden color that glistens in the sunlight. The size of each berry varies depending on where it was grown, but typically they range from small to medium.
Taste and Aroma of Alpine Yellow Wonder Strawberry:
The taste of the Alpine Yellow Wonder Strawberry is unique and complex. It has a sweet, tangy flavor with underlying notes of honey and citrus. Its aroma is equally pleasant, with hints of vanilla, rose petals, strawberries, and white pepper.
Plant Characteristics of Alpine Yellow Wonder Strawberry:
Alpine Yellow Wonder strawberries are typically classified as everbearing or day-neutral varieties, meaning they can produce fruit continuously throughout the growing season rather than in a single flush. They are low-growing plants, reaching around 6 to 8 inches (15 to 20 cm) and spreading up to 12 inches (30 cm) in diameter.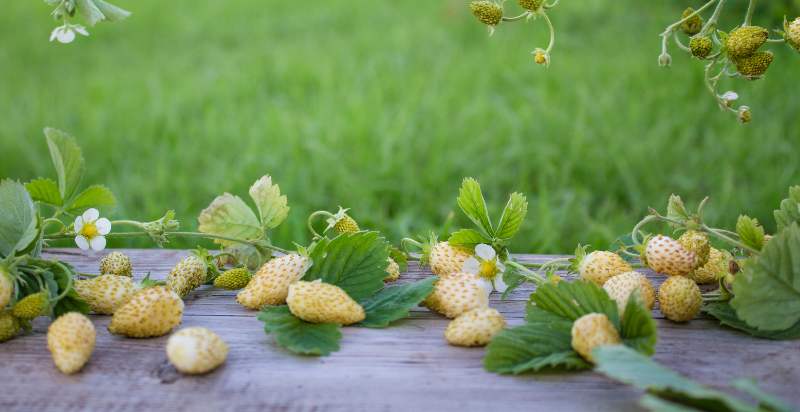 Nutritional Benefits of Alpine Yellow Wonder Strawberry:
Alpine Yellow Wonder strawberries are packed with essential vitamins and minerals. They contain high amounts of vitamin C, dietary fiber, potassium, magnesium, other antioxidants, and phytonutrients. Eating just one cup of these sweet little fruits can provide 8 percent of your daily recommended intake for vitamin C.
Where are Alpine Yellow Wonder Strawberry Grown and Harvested?
Alpine Yellow Wonder Strawberry plants are primarily grown and harvested in the Alpine region of Europe, including parts of France, Switzerland, Italy, Germany, and Austria. This type of strawberry is specifically adapted to grow in colder climates and higher altitudes than other varieties.
The fruits thrive in temperatures between 14°C-18°C (57°F-64°F). The Alpine Yellow Wonder Strawberry is grown in open fields and tended to by farmers, who use traditional methods to propagate the plants. They are carefully handpicked to maintain quality and freshness. In addition, the Alpine region offers perfect soil conditions for growing this variety of strawberries, which makes them particularly sweet and juicy.
Where can the Best Quality Alpine Yellow Wonder Strawberry be found?
The best quality Alpine Yellow Wonder Strawberries can be found in local farmer's markets or fruit and vegetable stores. They may also be purchased online from specialty produce stores. When selecting strawberries, look for bright yellow berries with a glossy exterior. The firmness of the berry will indicate ripeness; if it is too soft, it may not be ripe.
Be sure to avoid those with any signs of mold or soft spots, as these indicate a berry that is no longer fresh. Remember, the Alpine Yellow Wonder Strawberry isn't like other types of strawberries and prefers cooler temperatures which can affect its shelf life.
What is the Best way to Store Alpine Yellow Wonder Strawberry?
The best way to store Alpine Yellow Wonder Strawberries is to refrigerate them. This will help slow the ripening process and preserve the flavor of the strawberries. It is also important to rinse and pat dry the berries before storing them in an airtight container or plastic bag. Storing them in a refrigerator drawer or on a shelf away from direct sunlight will help keep the strawberries fresher for longer.
When storing the berries, ensure there is enough air circulation in the container or bag so they don't become soggy and moldy. Store the strawberries in a single layer to prevent bruising, and use them within 2-3 days of purchase.
What are some ways to Use Alpine Yellow Wonder Strawberry?
Alpine Yellow Wonder Strawberries can be used in a variety of recipes. They are perfect for incorporating into desserts such as cakes, pies, tarts, salads, sauces, and jams. Their sweet flavor pairs nicely with other fruits or chocolate, making them ideal for smoothies or milkshakes. The berries also make a delicious topping for breakfast items such as oatmeal, pancakes, or waffles. They can also be frozen and used in future recipes.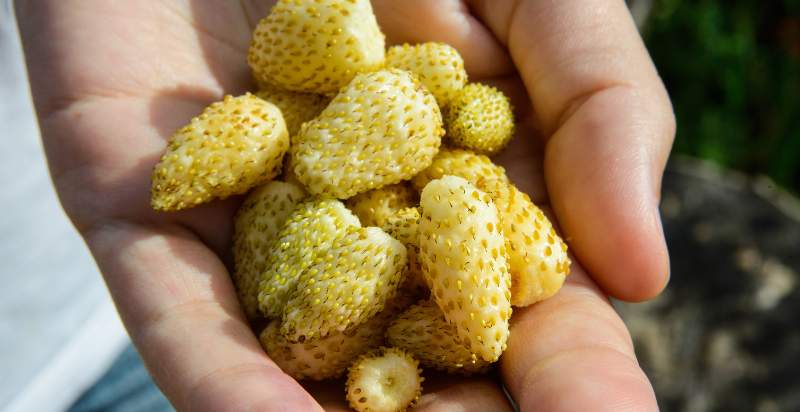 Conclusion:
The strawberry cultivar known as Alpine Yellow Wonder Strawberries is sweet and juicy. They can be consumed independently or used in various recipes, from salads to desserts. To avoid bruising, it's crucial to preserve the berries in a single layer when storing them. Alpine Yellow Wonder Strawberries can be enjoyed for several days with the proper handling and storage.
The possibilities are endless for incorporating this versatile berry into your meal plan. Enjoy these sweet and juicy strawberries as a snack or use them in various recipes – either way, you won't regret adding an Alpine Yellow Wonder Strawberry to your diet!