Garden sprayers come in various shapes and sizes, but they all serve the same purpose: to help you apply water, pesticides, herbicides, and other liquids to your plants. Many different types of garden sprayers are available on the market, so how do you know which one is right for you?
In this article, we'll look at the different types of garden sprayers and what they're best suited for, as well as tips on how to get the most out of your garden sprayer.
What is a Garden Sprayer?
A garden sprayer is used to apply herbicides, pesticides, and fertilizers to plants. Garden sprayers come in various sizes, but they all have a pump that pulls liquid from a tank and forces it through a hose to a nozzle.
Types of Garden Sprayers
The most common type of garden sprayer is the pump sprayer. Pump sprayers come in both handheld and backpack styles and are ideal for applying water or light solutions and pump sprayers are also relatively easy to use and maintain.
You'll want to use a compressed air sprayer if you need to apply a more concentrated solution, such as pesticides or herbicides. Compressed air sprayers create a fine mist that can reach the bottom of tall plants, and they're also great for applying solutions to hard-to-reach places.
Battery-powered models are more expensive than manual ones but are also much easier to use. You might consider a battery-powered model if you have a large garden or many plants. Manual models are less expensive and easy to use, but you must pump the handle repeatedly to get the liquid flowing.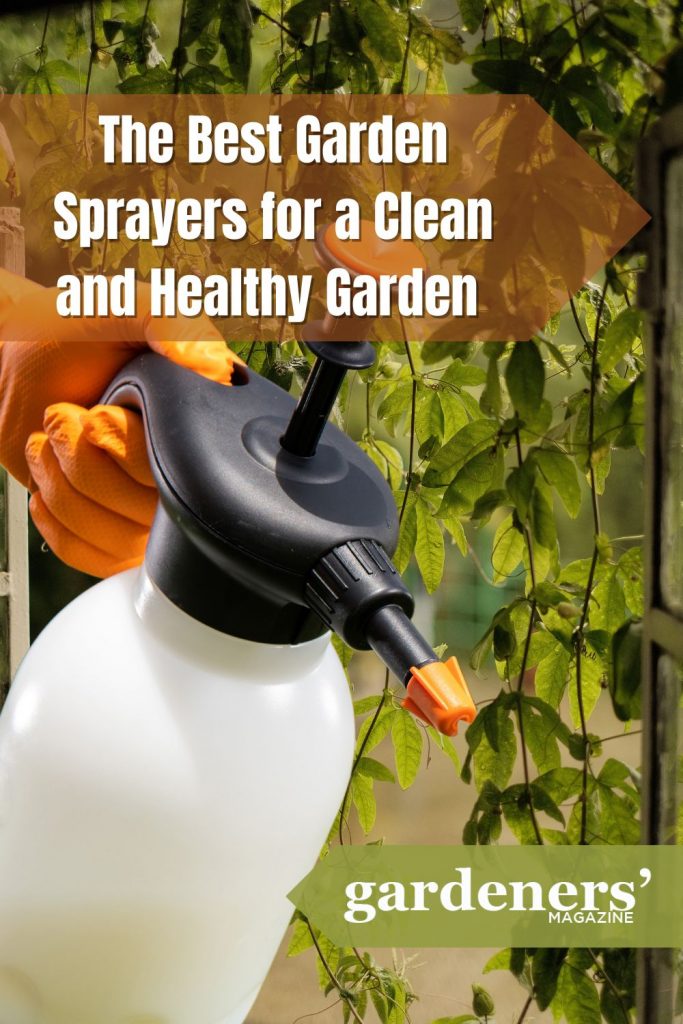 How to Choose the Right Garden Sprayer?
What type of liquids you'll use for : When choosing a garden sprayer, you'll need to decide what type of liquids you'll use it for. Water-based solutions, like water and fertilizer, can be applied with just about any garden sprayer. However, if you're using pesticides, herbicides, or other concentrated solutions, you'll need to choose a garden sprayer designed explicitly for those liquids.
Size : The size of your garden will dictate the size of the garden sprayer you need. A handheld garden sprayer will be sufficient if you have a small garden, and you'll need a backpack garden sprayer with a large garden or many plants.
Type of Plants : The type of plants in your garden will also dictate the type of garden sprayer you need. You'll need a gentle stream setting on your garden sprayer if you have delicate plants, and if you have tough plants, you can use a more robust stream.
Amount of Time : You'll need a backpack model if you use your garden sprayer for extended periods. Backpack garden sprayers distribute the weight evenly across your back, making them more comfortable to use for long periods. Handheld garden sprayers are small and easy to carry, but they can be tiring to use for long periods.
How to Use a Garden Sprayer?
Using a garden sprayer is relatively simple. Just attach the hose to the appropriate attachment on the sprayer, fill the tank with your desired solution, and then pump the handle to build up pressure. Once the pressure is built up, squeeze the trigger to begin spraying.
When using a garden sprayer, hold it upright, so the solution doesn't run out too quickly. You may also want to apply a light oil coating to the pump mechanism before each use to help keep it working correctly.
Tips for Getting the Most Out of Your Garden Sprayer:
Here are some tips to help you get the most out of your garden sprayer:
– Always read the manufacturer's instructions before using any garden sprayer, which will help you understand how to use it properly and avoid any potential problems.
– When using pesticides or herbicides, always wear gloves and protective clothing. Be sure to follow the directions on the label carefully to avoid harming yourself or your plants.
– If you'll be using a garden sprayer for more than one type of liquid, clean it thoroughly between uses, and this will prevent the different liquids from mixing and causing problems.
Care and Maintenance of Your Garden Sprayer:
To keep your garden sprayer in good working condition:
Clean it after each use.
Flush the tank with water and disassemble the pump mechanism to clean it with soapy water.
Rinse everything thoroughly and then allow it to air dry.
Oil the pump mechanism before storing the garden sprayer so it doesn't rust.
If you take good care of your garden sprayer, it will last many years. With proper care and maintenance, you'll be able to enjoy using your garden sprayer for all of your gardening needs. Now let's walk you through the 6 Best Garden Sprayers We Reviewed
The 6 Best Garden Sprayers We Reviewed
1. Chapin 20000 1-Gallon Poly Lawn, Garden, and Multi-Purpose Sprayer
With the Chapin 20000 1-Gallon Poly Lawn, Garden, and Multi-Purpose Sprayer, you get a translucent tank that makes life easier when you need to clean it, and it also lets you very simply check the current level of liquid. It is compatible with the most popular weed killers, pesticides, and fertilizers on the market just now. The spraying rate is 0.4 – 0.5 GPM and adjustable to get the exact stream you need. Volume markings on the tank let you see exactly how much you have used and how much is left.
Features include an in-tank filter and an ergonomic handle that makes it easier to carry around and pump. This is a 1-gallon sprayer that promises a clog-free operation. The tank is light to carry and made from polyethylene, meaning it won't rust over time. You use it by pumping the handle until the air pressure builds up sufficiently. After this, it is just a question of pointing the sprayer and letting it do its job. This Chapin sprayer works smoothly and is easy to maintain.
Pros
Translucent tank lets you check the contents
Adjustable spraying rate
Light and easy to handle
Cons
Some units have leaked
2. Roundup 190473 Multi-Purpose Sprayer for Killing Weeds and Insects and Cleaning, 1 gallon
You can choose from three settings with the Roundup 190473 Multi-Purpose Sprayer for Killing Weeds and Insects and Cleaning, 1 gallon multi-purpose sprayer. These are a fan, stream, and cone spray, each particularly suitable for a specific type of job. This may be the best garden sprayer for your home if you want the variety these different settings bring, although this might not be so important for some people. It is also a good option for getting jobs done quicker and with less effort, as the pump needs 25% fewer strokes than others.
To start, you fill it up, pump, and spray. Safety features include a pressure-release cap that sends vapor down before opening and a shut-off mechanism. The lock-on function lets you put it into continuous spraying mode, saving your hand from tiring out on long jobs. It comes with a durable aluminum wand, and the whole thing weighs 2.3 pounds, with dimensions of 7.6 x 7.6 x 15.9 inches. There is no shoulder strap to let you carry it around comfortably, although it is compact and light enough that you may not consider it necessary.
Pros
3 different spray settings
Lock function for continuous spray
Pressure release cap for more excellent safety
Cons
No shoulder strap
3. CoreGear Classic USA Misters 1.5 Liter Personal Water Mister Pump Spray Bottle
The CoreGear Classic USA Misters 1.5 Liter Personal Water Mister Pump Spray Bottle could be the best garden sprayer for you if all you want is a simple, easy-to-use product. This pump spray bottle holds 1.5 liters and can be used for various purposes. For example, it is ideal for personal and pet cooling in hot weather. Still, it could spray weed killer, fertilizer, and other products onto and around your plants. Changing the setting from a light mist to a strong liquid stream depends upon each situation you find yourself in.
The bottle is made from good PET plastic and has an adjustable brass nozzle. The pumping mechanism is made from stainless steel for extra durability. Adding a carrying strap with a belt or bag clip means you can easily take it to spray wherever you go. Naturally, the compact size of this spray bottle means that it is only likely to be of interest to you if you have a small number of plants rather than a huge garden. It weighs 9.9 ounces.
Pros
Highly portable
Versatile and adjustable
Adjustable spray
Cons
The bottle may be too small for some gardens
4. D.B. Smith Smith 190285 1-Gallon Bleach and Chemical Sprayer for Lawns and Gardens or Cleaning Decks, Siding, and Concrete
You can spray your plants professionally and effortlessly with this chemical sprayer. It is incredibly easy to use, as you must fill it up and pressurize it by pumping it before spraying. You can use the fill markings to see exactly how much liquid is sitting in it. It is suitable for use with strong chemicals such as bleach, so it will be no problem for weed killers, fertilizers, and other gardening products you might need to spread around.
If you have a large area to spray, the locking mechanism that allows continuous spraying could be very useful. This product is made using replaceable Viton seals and gaskets, which means that it should last longer without giving you any problems. The adjustable nozzle allows you to switch between steam and cone options whenever you need to. Both the nozzle and the wand are said to be completely non-corrosive. There is a comfortable grip for you to hold and a 36-inch reinforced hose to let you carry out those tricky jobs exactly how you want to.
Pros
Good, quality construction
Highly flexible
Good pressure levels
Cons
Some issues with the strength and direction of the streams
Check out our top picks of gardening books that every gardener should read.
5. COREGEAR ULTRA COOL XLS USA Misters 1.5 Liter Mister & Sprayer Personal Water Pump With Full Neoprene Jacket and Built-In Carrying Strap
This personal water pump came with a fully zippered sleeve and integrated carrying strap, so taking it anywhere with you is a simple task. Depending upon the circumstances, it can be switched between a cooling mist and a strong stream of water of up to 20 feet. The bottle is made of PET plastic, and the most important components include the adjustable brass nozzle and the stainless steel pumping mechanism.
It comes in various colors; green, blue, purple, grey, red, and teal. The weight is 13 ounces, and the dimensions are 12″ x 8″ x 5″. Before the first use, you must check that the O-ring is in place and securely seated inside. You can fill it to the indicated level and tighten the pump handle. The pump needs to be raised and lowered around 10 times, by which time you must select the desired setting and pull the trigger. It has 1.5 liters of interior space but has a 1.2-liter capacity (a small section needs to be left free of liquid).
Pros
Compact and portable
Fun and easy to use
Carrying strap and sleeve included
Cons
May lose pressure more quickly than desired
If you want to choose the right plant stand for your space and garden here is our guide! Elevate your planting area with the best plant stands on the market.
6. Solo 430-2G 2-Gallon Farm and Garden Sprayer with Nozzle Tips for Multiple Spraying Needs
This big pressure sprayer lets you use up to 2 gallons of fertilizer, weed killer, or other products. This means it is suitable even for big spaces where many plants must be protected. It is designed to be easy to fill using the funnel top, while a large secondary opening allows you to clean it quickly and easily after each use. The wand is extremely long at 28 inches, and the manufacturer promises that it is also unbreakable. The overall weight of the product is 4 pounds.
This Solo farm and garden sprayer has a commercial shut-off valve that provides a useful lock-on/lock-off feature. In this way, you can avoid your hand getting fatigued when using it for a long time on big jobs. The sprayer's durability is added to by the chemical-resistant seal that is included. You can also take on a range of different spraying tasks thanks to the four-nozzle assortment that it comes with. One of the few issues noted here is that it can take quite a lot of short strokes to build up the pressure needed to use this sprayer effectively.
Pros
Built to last
Good range of functions
Very little maintenance needed
Cons
A relatively high number of strokes are needed before use.
Conclusion
A garden sprayer is a handy tool that can make watering your plants much easier. There are many different types and sizes of garden sprayers available, so you'll need to choose the one that's best for your needs. Consider the type of liquid you'll be using, the size of your garden, and the type of plants you have when selecting a garden sprayer.
Be sure to read the manufacturer's instructions carefully and take good care of your garden sprayer to keep it in good working condition. Your garden sprayer will last many years with proper care and maintenance.